News
Belfast Met Construction Students build a Bright future at Skillbuild NI Final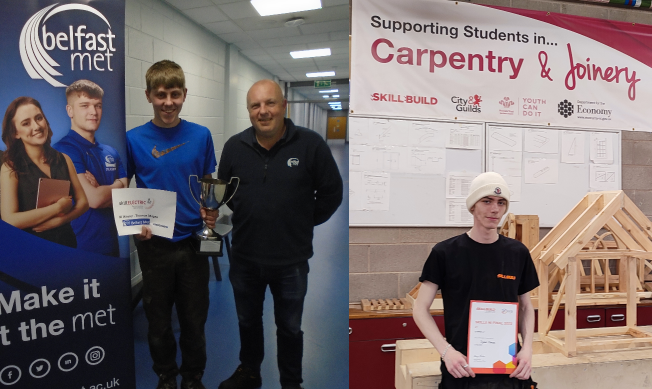 Published: Thursday 25 May 2023

Students from Belfast Met take first and second places in The Construction Industry Training Board NI (CITB NI) annual SkillBuild NI Finals 2023 competition at NWRC, Greystone Campus, Limavady.
Electrical Installation student Thomas Magee placed first whilst Carpentry student Dylan Magee came second in his category. They took part in the one-day competition last week in their specific trade area and displayed a high level of expertise in completing the set tasks. Both students will be hoping to represent the college in the UK finals in Milton Keynes in November.
The competition is designed to test skills, technique, ability within tight timeframes, and identifies the top performers in 11 different trade areas within construction apprenticeship programmes from across Northern Ireland. It is a showcase of the wealth of talent, professionalism, and the brightest recruits throughout the industry.
It was a long day for the Belfast Met students but their motivation and skill level was of the highest standard. Over 90 of the brightest recruits and top performers within construction apprenticeship programmes from across Northern Ireland competed against each other to win in categories: Brickwork, Cabinet Making, Carpentry, Electrical Installation, Joinery, Painting & Decorating, Plastering Dry Wall Systems, Plastering, Plumbing, Wall & Floor Tiling.
Supported by the Department for the Economy and local construction companies, the competition provides an opportunity to showcase the high level of skills and the impressive talent within the workforce, as well as raising the status and standards of professional and technical education and training.

Barry Neilson, Chief Executive CITB NI, said:
"A huge congratulations to all the apprentices who took part in the annual SkillBuild NI 2023 competitions. There was an incredible amount of talent on display. It was great to see the enthusiasm and commitment from a new generation of construction industry leaders – the future of the industry is looking very bright! Apprentices at all levels are a vital component to helping the construction industry develop and grow. Offering young people apprenticeships gives businesses the chance to play an active role in developing their future workforce as well as creating the future skills that they need to help their businesses develop. I would like to take this opportunity to thank our partner NWRC for the fantastic showcase of the NI talent pool throughout the competition and we look forward to the SkillBuild UK National Finals in November."
Belfast Met Construction and Build Environment Lecturer Kieron Flannery said:
"The Skillbuild competition is an excellent opportunity for the students to showcase their skills and demonstrate what they have been practicing for since the beginning of the academic year.
Much of their long hours of practice is often done outside of their normal class time, this is a fantastic achievement for the students and the College."