History of Belfast Met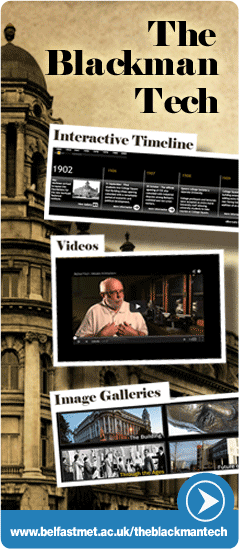 Belfast Metropolitan College is the largest college of further and higher education in Northern Ireland and one of the biggest providers in the UK.
The history of Belfast Metropolitan College stems back to the early 1900s with the opening of the Municipal Technical Institute in September 1906. This was central to the development of further education in Belfast and its opening coincided with a remarkable period of economic and political development. The imposing new building, located at College Square East, was designed to cater for the education and training needs of a major industrial area. Visitors to the building were confronted with a nothing less than a secular cathedral that paid homage to the Industrial Revolution, the sciences, arts and crafts. The building also played an important role in contributing to the prosperity and vitality of the city.
From the cradle of College Square East, other colleges emerged, including Stanhope Street (off Clifton Street), Rupert Stanley (in the east of the city), and the College of Business Studies (Brunswick Street). In the early 1990s, these colleges came under the mantle of the Belfast Institute of Further and Higher Education.
In August 2007, Belfast Institute merged with Castlereagh College, located in East Belfast, and then rebranded to form Belfast Metropolitan College.
It is an exciting time for us all at Belfast Met, as we strive to create a 21st century learning experience for all of our students. Our flagship Campus located in the Titanic Quarter area of Belfast – creates a new and exciting learning quarter for the city. This modern landmark building features the latest facilities and is located within close proximity to the Odyssey complex.
Our innovative e3 building has been designed to promote employability, entrepreneurship and enterprise for the North and West Belfast area. This 5000sq. Metre building is located adjacent to the College's Community Learning Centre on the Springfield Road and accommodates up to 350 users per day, drawn from our higher education students, school pupils, start-up companies, local businesses and community organisations.
Many people within Northern Ireland can claim a connection with the colleges and centres that now make up Belfast Metropolitan College. We are justifiably proud of the famous artists, engineers, broadcasters, politicians and sporting personalities who count as our alumni. However, our real history is that of ordinary men and women, entering further and higher education with hopes of improving their chances of gaining employment or seeking to develop their inherent talents. Whether they mean the "Black Man", "Rupert Bear", "The College of Knowledge", or any other strange epithet for one of our buildings, if you ask people to outline their educational development, they will often say: "I went to the Tech".
For more information visit https://www.belfastmet.ac.uk/theblackmantech/