Advice for Parents, Carers & Guardians
A Guide to Belfast Met
Supporting your child to choose the right Further or Higher Education course is a big step, use the information below to help make this decision easier, so you can talk through the options and see the range of support that is available at Belfast Met during this process.
"Watching your child move into adulthood with confidence is the most rewarding experience. The support and motivation provided by Belfast Met has encouraged our daughter to believe in herself, challenge herself and aim high." Justine Armstrong, Mother A Level student, Victoria.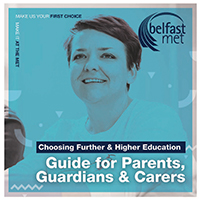 Guide for Parent's, Guardians & Carers
Download our new Parent's, Guardians & Carers Guide designed to help you and your child come to the right decision; so you can talk through the options and see the range of support that is available.
Click here to view
The first step is to discuss career plans and how they like to learn
Studying at Belfast Met provides many career options. If your child is unsure of their career direction or wants to explore different pathways, this can be done by choosing courses with work experience placements.
Many of Belfast Met's lecturers work as professionals in the field that they teach in, so have excellent industry links and can provide a unique insight into the kind of career that courses can lead to. They also know what skills businesses are looking for and will provide support in applying for placements and jobs in industry. There is a dedicated careers department at the College that prospective and current students can get free
advice from.
If your child is unsure of which career to follow, our courses can provide a wide range of skills in an area of interest to give them a deeper insight into career paths they can follow and specialise in at a later stage if they want to.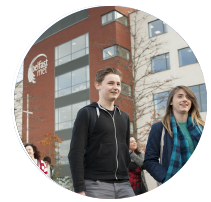 Does your child already have a career plan?
If your child has already decided on what career to follow it is important that they have discussed the subject qualifications that they will need with their school careers teacher, to see ensure they meet the course criteria.
Choosing the course that will provide the right qualifications to allow your child's dream career to become a reality is key. There is a wide range of technical and vocational
Further and Higher Education courses to choose from.
Your child could also consider an apprenticeship to gain a professional qualification and earn as they learn. Apprenticeships are available from Level 2 right through to Higher Education Level 5. The Centre for Skills and Apprenticeships also offers vocational pathways and Level 1 qualifications through the Skills for industry and College Connect programmes. Find out more about Apprenticeships
There are some careers and professions which require a degree and Belfast Met offers Foundation degree and degree courses.
Find out more about Higher Education
"It has been a joy to see Matthew so contented and to flourish in such a positive, vibrant environment. The clear interest the tutors have in their pupils and their interaction is refreshing and is a much better "fit" for Matthew. His confidence has grown and we feel Belfast Met is an excellent springboard into the next stage of his education. The skills he has already learned will stand him in good stead throughout his academic life, to university and beyond."
Michelle McRoberts, Mother of former A Level student, Matthew.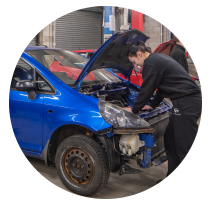 Getting Career Ready
The College is career focussed and closely connected to industry, having expanded its courses to meet employer demands within changing economic and business environments.
We work very closely with employers to provide apprenticeships so your child can earn as they learn, get valuable work experience and gain qualifications. The apprenticeships have expanded well beyond the traditional areas and there are a wide range of options including IT, Business, Hospitality and Construction to name a few.
Find out more about Apprenticeships and Traineeship pathways
How does your child learn best?
Belfast Met has smaller class sizes and more frequent teaching contact time than universities where there is more private study time. Former Belfast Met students have found that this supportive environment boosts their self-confidence and has improved their learning experience.
Some students feel that learning is more relaxed and intimate in an FE college setting, and the smaller class sizes means that your child will have more opportunity to ask questions and get involved in open discussions.
Belfast Met can also provide work experience opportunities for students, which is great for their personal development and C.V., as well as class trips that broaden their horizons.
"The course has allowed Tim to explore all aspects of Journalism and Broadcasting. It has enabled him to enhance his passion with confidence, and to flourish in the career he has chosen. With the excellent support, mentorship and encouragement from his tutors, and the opportunities he has had during his time at Belfast Met, it has given him a solid foundation for a promising future". Mother of Timothee, HND Creative Media Production (Journalism).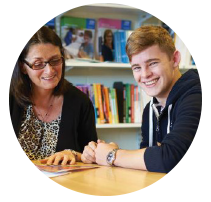 Make a check list of your priorities
Before applying for a course, it is important to agree a check list of priorities with your child. We recommend that you agree the criteria to select up to five courses that you can apply for at Belfast Met, and make sure that they fit the needs of your child and your family.
We recommend that you agree the criteria to select up to five courses that you can apply for at Belfast Met and make sure that they fit the needs of your child and your family. It is also important to be aware of the course structure and whether your child is a practical learner who would prefer hands-on assessments and work experience.
Please seek guidance if you are unsure about course choices to ensure that your child understands fully the options open to them before they commit to a course of study.
"Maria had a fab time, and thoroughly enjoyed her time at Belfast Met so much, that she doesn't want to leave! Maria studied the Extended Diploma and then completed her Degree, so has been there for 5 years now. We couldn't praise the College highly enough." Parents of Maria, BSc Fashion Management.
How to Apply
Finding the right course for your child is the most important part of the process. Learn more about our Prospectus, searching for the right course, how to apply and managing offers.
Find Out More
How Much Will It Cost?
Further Education level courses do not normally charge fees, but exceptions may apply which will be confirmed by the College.
Lower tuition fees for our Higher Education courses
Increasing numbers of school leavers studying Higher Education are opting to stay at home due to cost.
Belfast Met's fees are significantly lower than university fees so your child will have a lower student loan to repay.
No high accommodation fees and our campuses in Belfast are easily accessible, so reduces living and travel costs.
The annual fees for Higher Education courses Level 4-6 are substantially lower than the cost of going to university in the UK. For example, the fees for our full-time foundation degree/HND is £2,765 per year and our BSc in Social Work is £4,395 per year.
Our courses are excellent value for money as costs are significantly lower for your child's qualifications than they would be at university, meaning less student debt to repay. Many of the HND courses will allow your child to go straight into second or third year at university to top up their qualification to a degree, so there will be substantial savings on university tuition fees as well.
Find out more about Fees & Finance
"Belfast Met is a fantastic College and has provided great support and guidance for my son's apprenticeship in Engineering. His abilities as an Engineer have grown each year and he has evolved from a young apprentice into a young professional thanks to his employer and tutors." Kathleen Magee, Mother of Apprentice Graduate, Peàrse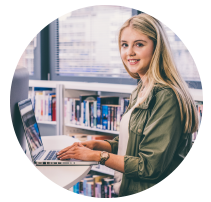 Levels Explained
Different types of qualifications are grouped together into various levels. This can help you and employers to see how different qualifications compare and how one type can lead on to another. The levels are based on the standards of knowledge, skill and competence needed for each qualification. Qualifications at the same level can be very different in terms of content and the length of time they take to complete.
Find Out More
State of the Art Facilities and Student Spaces
Your child will be able to stay close to home and learn in world class College facilities. Belfast Met has invested in over £60 million in improving our campus facilities across Belfast to give your child the best learning experience possible. Located on four main campuses across the City – Titanic Quarter, Millfield, e3 and Castlereagh – your child will have easy access to the campuses from the City centre and will reduce travel and accommodation costs if studying near home.