News
Niall Donaghy; Winner of the Royal Opera House's Design Challenge for Marketing Strategy and Design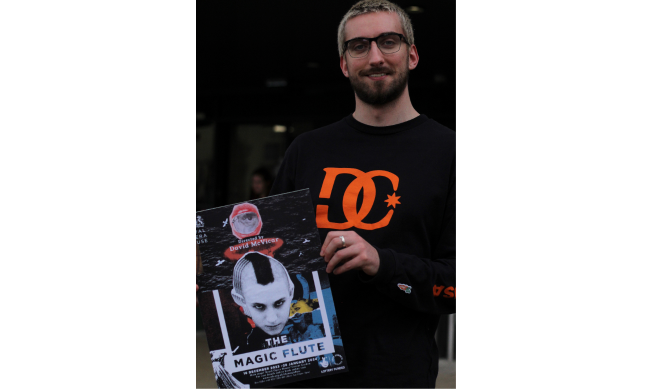 Published: Monday 15 May 2023
A Belfast Met student has won this year's Royal Opera House Design Challenge for Marketing Strategy and Design for the second year in a row.
Niall Donaghy, a current Belfast Met Graphics student, designed the artwork for the opera show 'The Magic Flute' programme which took place 16th December 22 until 28th January 23.
The Royal Opera House's national Design Challenge is a hands-on design skills programme which helps drive skills development and progression for students studying at KS4 and KS5. There are four free access design pathways to the competition: Set, Costume, Wigs and Makeup and Marketing. Each pathway is designed to improve students' creative problem solving, build understanding of career pathways, explore the connections between STEM and the arts and develop students' empathy skills needed to design for an audience and other user groups.
Niall said: "I'm incredibly grateful for the opportunity to submit my work to the Royal Opera House competition and to have won the award is the icing on the cake! Working on projects with real clients and competitions has been a massive driving force to push me creatively and produce work that I'm proud of.
The Graphic Design HND at Belfast Met has been brilliant and I'd like to thank my tutors Conor McClure and Georgia Collins for the support along the way."
Lecture in Graphic Design Conor McClure said: "It's a great achievement for Niall to have been selected for such a prestigious award, with his work being judged against that of students across colleges and universities across the UK. It is a real testament to his creative flair and ability to produce professional standard work, as reiterated by the judging panel of industry designers from within the Royal Opera House.
All the Graphics teaching team are incredibly proud of the work produced, not only by Niall, but also from all the other students of the HND Graphics course. As this is our 2nd year running of students winning the award, we hope for many more years of success from our fantastic students."