News
From Belfast Met to the Oscars: Stacey Browne's Incredible Journey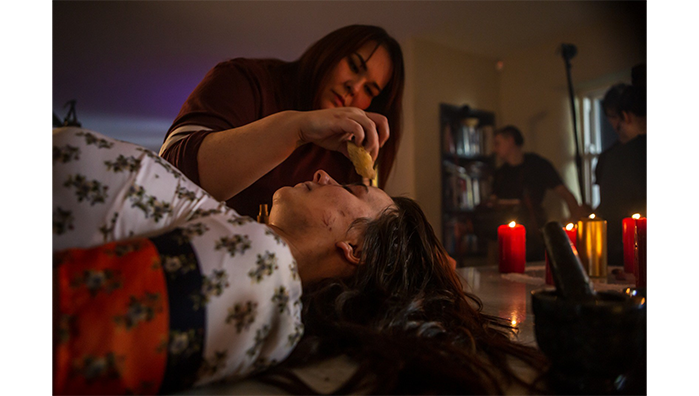 Published: 26 April 2023

From a life-changing diagnosis to being part of an Oscar and Bafta Award-winning team, learn more about past student Stacey Browne's inspiring journey to becoming one of the UK's leading Makeup, SFX and Prosthetics artists.
How I started my career...
"I have always had a keen interest in TV and Film, I love the old-fashioned glamour of Hollywood styling and the amazing transformations achieved with prosthetics. I wanted to work in the Film Industry since leaving school in 2001 but was advised to study Art and Design on the premise of getting a "real job" at the end of it.
In 2013 I was diagnosed with Cancer, it was then that I became obsessed with YouTube videos of makeup and making prosthetics, I would pass most of my recovery creating prosthetics from anything I could find around the house and when I was able, I decided to do an evening course in Makeup Artistry at Titanic Quarter. My tutor Susan was great, I showed her some of the work I had done at home, and she told me about the Level 3 Media Makeup course and really encouraged me to go for it.
I was dubious as I'd had so much time off from work as a self-employed photographer my savings were mostly gone, and I thought I was too old and had too many responsibilities to go back to study. After a lot of encouragement from Susan and support from my family I started a Level 3 in Theatrical, Special Effects and Media Hair and Makeup the following summer and loved every minute of it!
I learned so many skills that still stand me in good stead to this day and my tutors were great especially Jane who pushed me constantly and went above and beyond putting me forward for the Belfast Met Scholarship Award which meant I was able to go and learn from one of the top prosthetics artists in England which was incredible."
My journey of being in an Oscar and Bafta winning team...
"Fast forward eight years I have been so lucky to have had such a varied career from Music Videos and Theatre shows to Film and TV, working for the likes of Disney, BBC, UTV, Rte., and being Hair, Makeup and Prosthetics Designer for a Feature Film.
I have personally been nominated for Best Hair and Makeup at Seattle International Fashion Film Festival and won Best Monster in a Short Film at Wexford Film Festival.
As much as the bigger budget projects are great to work on, I absolutely love working on Short Films, you get more chance to be creative and have a small tight-knit team that quickly become like family. One of the first shorts I worked on "A Balance Within" was written, directed and shot by two of the most insanely talented people I know and now have the pleasure to call friends and five of us that met on that short film have collaborated on a lot of other projects since. One of those people is Pearce Cullen who went on to work in production and asked me if I would join him on "An Irish Goodbye."
After reading the script I was excited to get started and shooting began a few weeks later. The film was perfectly cast with Seamus giving some of the most incredible performances I've seen to date with James and Paddy adding their own talent and comedic flair to really sell the script as the beautiful and heart–warming tale it is.
Behind the scenes, the crew varied from students to more experienced people who worked long hours in some pretty tough and soggy conditions to make An Irish Goodbye the vision Ross and Tom had when writing the piece. One of the best things about working on a low budget short like this is no one is there for the money, they are there because it is their passion, we love what we do and had plenty of laughter to keep spirits high along the way and I think that translates on the screen. Never once did we think that we would be nominated let alone win an Academy Award and a BAFTA, it still hasn't really sunk in at all!"
My work continues...
"Since then, I have worked on CBBC series Silverpoint and BBC's Wreck. More recently I have designed a lot of TV Commercials for Spar, NIHSE, PHE and I am also teaching workshops for this year's Jungle NI Fright Nights while coming off maternity leave.
Every job is different and new which keeps it exciting and it's so hard to pick a favourite but if I had to narrow it down Disney's Artemis Fowl will always have a special place in my heart because it was my first Feature Film as a prosthetics artist. Though with some very exciting TV shows and films coming to Northern Ireland, I'm excited to see where the year takes me…"
A thank-you to Belfast Met...
"I would never have had these opportunities had it not been for attending that evening class in Belfast Met and meeting the tutors who pushed me and showed me I can achieve anything I want, you're never too old or have too much responsibility to start again and achieve your dreams."
Learn more about courses at Belfast Met