News
Students Create First Commercial Shoot at Belfast Met's Virtual Production Screen Studio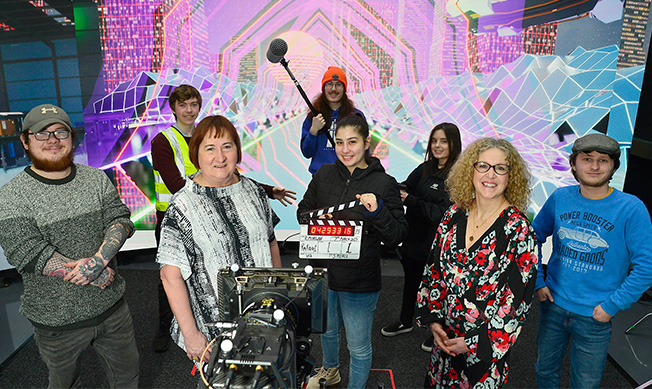 Published: 24 March 2023

Coming soon, to a screen near you, a television advertisement screens highlighting vocational qualifications as 'the Way to Go', produced Belfast Met students. This will be the first commercial shoot to come out of Belfast Met's brand-new Virtual Production (VP) screen studio.

Lecturer Mike Lee, who coordinates the Motion Graphics course at Belfast Met said,
"Think of green screen on steroids. If you watched the TV Series, 'The Mandalorian' you will know what I am talking about."
Virtual Production combines real life and virtual techniques and is changing the way high-end productions, particularly films, are made. A bank of LED screens creates a huge wall, and those screens take a visual feed from Unreal Engine. The production space, known as 'volume', surrounds the actors or performers, and light is beamed on to the actors from the surrounding wall as if they're in that location in real life.
Using camera tracking data, VP experts can match the shots in that 3-D world to the 'virtual' camera in the computer, so when the camera moves around that volume, or space, it's moving around that digital environment as well, so the entire 3-dimensional movement is experienced, as in reality.
Mike continued:
"Belfast Met's e3 studios is ahead of the curve and was one of the first to buy this for educational use. It's now up and running and the Creative Media Students at e3 are getting invaluable hands-on practical experience in how to use this system, so they will have a massive advantage when they step out into the workplace."
The TV advert, funded by the Department for the Economy, features a young person waking up in the morning; she gets out of bed and as the bed gets moved away out of the shot, we see the character moving through the day into various scenarios and apprenticeship roles, changing clothing, prop changes, location changes, and as this is all happening 'in set', as the 'virtual' background is changing from one location to another.
"Technically, the shoot was very tricky. At the end, a basketball is thrown, and the character catches it and throws it up above her out of shot and then behind her on the digital screen we see the ball going into the basketball net. We spent a day and a half rehearsing and getting the timings and placements right, because the filming had to be all one take."
The final result is a top-end television advert with high production values, which is a typical example of how Belfast Met students regularly work hand in hand with industry.

The entire 2nd year cohort from the HND Visual Effects (VFX) course built and set up the VP screen and along with learners from HND Motion Graphics, they worked closely with local production studio AURA and their Virtual Art Department (VAD). A professional crew of between 20 and 30 people was brought in and around a dozen students, working in lighting, camera, direction, make up and more, collaborated to make it all happen.

HND Visual Effects student David Hanna said "This was a fantastic opportunity, and it was brilliant working alongside professionals from AURA. We were in the same studio with the VAD team and VP crew, as well as the Producer and Director – it was fantastic to be a hands-on part of it. The tracking system we use on this set, along with the LED wall, is like that used in ILM (Industrial Light Magic), the VFX company owned by Disney where Marvel, Star Wars and others are made so this will be great experience to have on my CV moving out into the workplace."

2nd Year Film Production student Victoria Castellanos who also worked on the shoot said, "I was so excited about being involved in this project, using this brand-new technology which everyone knows from the Mandalorian, and this is the way the film industry is moving so it's so important to have hands-on knowledge of how it works as part of my education."

At one time Chromakey, or 'green screen' was the height of technology in production VP will effectively retire that and will change the dynamics of how productions are made.
David explains, "In the past, the VFX team would have been locked in a basement and brought in at the end of the postproduction period, but now those departments are right at the forefront, they have to be involved right at the start of these films, in the actual on-set production so the creativity is much more flexible."

It's a brief glimpse of the future of this exciting area of production and Mike Lee and his teaching colleagues Darin Smyth and Darren Porter are investing in the future of the digital production industry as Belfast Met enrols students on the brand-new Foundation Degree that brings all these skills together.

The Foundation Degree in Digital Art and Animation for Visual Effects and Virtual Production (DAVE-VP for short) begins in September 2023 – applications for the course are open now.

It's one of several new Foundation Degree courses in Creative Media being delivered at Belfast Met – Journalism and Documentary Production, Sports Journalism and Film Production will all cement the future of this growing industry in Northern Ireland and beyond as Belfast continues to build on its reputation as a movie production location.

NI Screen has invested around 80 million in another new VP facility. 'Studio Ulster' will be the biggest virtual production studio in the UK, possibly in Europe, with 5 stages, meaning a lot of the top feature films that use this technology will be coming to Belfast.

Mike added: "Belfast Met students will have a massive advantage in this area. It's this sort of work experience project that puts our students at the forefront of the technology and they will be first in the line in getting those roles in the growing movie industry, because they will have the experience on their CV before they even leave our course."

View the range of Foundation Degrees in Creative Media, including Digital Art and Animation for Visual Effects and Virtual Production

Watch the TV Ad