News
Belfast Met & Hospitality Ulster Launch Get Into Hospitality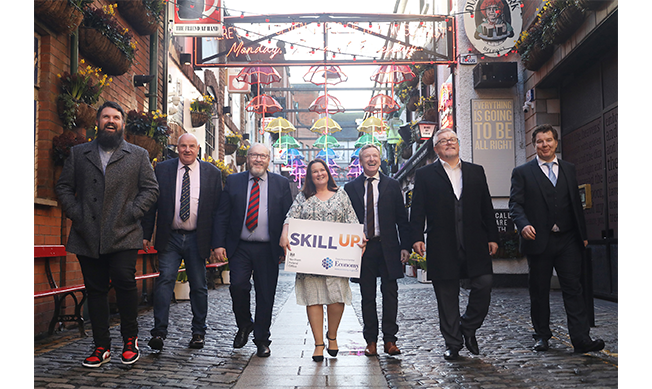 Published: 28 February 2023

Belfast Metropolitan College has partnered with Hospitality Ulster to launch an exciting pilot programme aimed at attracting and upskilling potential new entrants into the Hospitality sector.

Get into Hospitality, funded through the Department for the Economy (DfE) Skill Up programme, offers participants a free two-day course aimed at those seeking a part or full-time career in Hospitality.
Successful participants on the programme will gain a City & Guilds Level 2 Principles of Customer Service with the courses delivered in industry, by industry experts. The programme will also cover key introductory practical skill areas enabling new entrants to upskill in food service and bartending.
Raymond Kelly, Skills Initiative at DfE, commented:
"Support from our Skill Up programme has enabled Belfast Met to work with the Hospitality industry to develop this programme to address a crucial skills shortage in the industry.
"The Department for the Economy, with funding from the Northern Ireland Office and the Department of Finance, is supporting free short courses, delivered by the local further and higher education providers. Skill Up focuses on skills needs from industry and this is a clear example of the programme working to support the Hospitality industry.
"I urge any person seeking to reskill or upskill to contact Belfast Met about the Get into Hospitality programme or check out the nidirect website for more information on further courses available through Skill Up."
Joel Neill, Hospitality Ulster Operations Director, said:
"These vibrant new courses are a game changer for potential hospitality industry employees and employers. As we continue to navigate a difficult economic climate, we have to try new ways to attract talent into our industry, and the 'Get Into' courses do just that.
"Not only do they offer accredited qualifications in a 'hands-on' hospitality environment, but a number of employers have the chance to recruit directly into their businesses.
"We are excited about the success of the Get Into programme and look forward to exploring the opportunity to roll this initiative out to the wider industry."
Speaking about the programme Damien Corr, Cathedral Quarter Business Improvement District Manager, said:
"The double whammy of Brexit and Covid had a devastating impact on the availability of staff for the hospitality sector which is so vital for Cathedral Quarter and the wider city. In discussing this problem with Belfast Met and acknowledging the imminent arrival of 1000s of students, we made the obvious connection! CQ BID are delighted that Belfast Met"
"Department for the Economy Skill Up team and Hospitality Ulster have gone on to develop this course which is open to anyone with an interest in the industry. We are confident that this fantastic initiative will make a very positive impact on the sector."

Applications for Get into Hospitality are open now with courses commencing 20th, 22nd, 27th and 29th March 2023.

Find out more about Skill Up and the Get into Hospitality programme