News
Galgorm Collection Champions Innovative Hospitality & Tourism Apprenticeships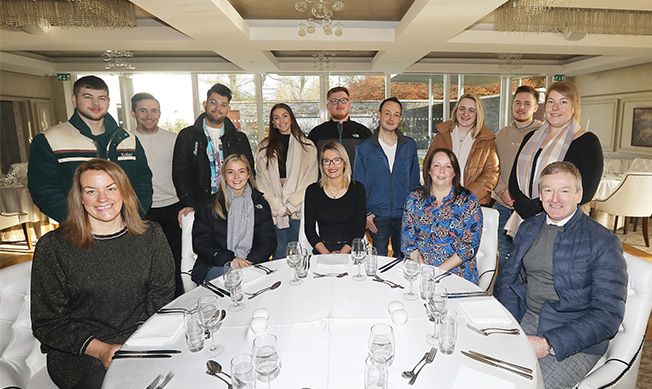 Published: 8 February 2023

As the hospitality and tourism industry responds to the workforce disruption caused by the pandemic and other pressures, Northern Ireland's Further Education Colleges are offering a range of apprenticeships designed to meet changing trends in the sector and enable hospitality businesses to recruit skilled and experienced people.
The Further Education sector in the region and is focused on delivering the skills necessary to support economic growth and address social inclusion in local communities. FE Colleges are attuned to the needs of local industry and offer a range of apprenticeships from Level 2 right up to Level 5 Higher-Level Apprenticeships in areas such as Hospitality Management, Tourism Management, Event Management, Culinary Arts to Professional Cookery, Front of House and Hospitality Supervision and Leadership.
*Our colleges run courses that support the hospitality and tourism industries vision to become a world leader in this area. That means recruiting people who are skilled and committed to becoming a professional in this industry. People are the backbone of our industry - we need to support and develop them to become the best® says Mark Rice, Curriculum Hub Manager of Hospitality and Tourism for the Further Education Sector.
Those who undertake an apprenticeship work with an employer for 4 days a week to gain practical skills and experience while studying one day a week at a local college with no cost to the employer or student. Apprenticeships are a proven solution to tackling staff turnover as well as sustainably dealing with staff shortages.
Research has shown that 80% of companies who invest in apprenticeships report an increase in staff retention and morale.
"Apprenticeships are a win win for everyone involved" continued Mark. "With no cost placed on the employer or apprentice these innovative pathways will bring a wide range of benefits to the industry.'
The value of apprenticeships is championed by hospitality industry leaders in Northern Ireland with companies like Galgorm Collection and the McKeever Group employing apprentices every year.
Recalling his experience to date of undertaking a Higher-Level Apprenticeship in Hospitality Management with the Galgorm Collection at Belfast Met, Steven Hamilton said "to date I cannot believe the knowledge I have gained surrounding the hospitality industry. Once I complete the course my career progression opportunities within the industry will open up so much!'
Colin Johnston, Managing Director of the Galgorm Collection said that participating in apprenticeships with the six Colleges is a "productive and effective way to grow talent and develop a motivated, skilled and qualified workforce."
Article from Licensed & Catering News (https://lcnonline.co.uk/digital/LCNYearbook23/)
Learn more about Apprenticeships