News
Belfast Met Lecturer Awarded MBE For Her Dedicated Work To College And Community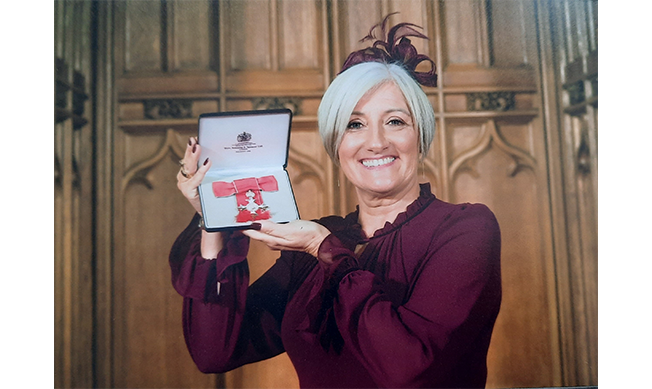 Published: 19 December 2022

A Belfast Metropolitan College Lecturer has been awarded an MBE in the Queen's Birthday Honours List 2022. Heather Houston, a Lecturer in Enterprise and Business Services to Further Education, received the prestigious award on behalf of her 'Services to Further Education and the Elderly Community.'
The Honour is in recognition of the incredible contribution Heather has made to Belfast Met over 35 years. During this time, the mum of two has given exemplary service not only to the College, but to a legion of learners, many of whom have gone on to achieve their own accolades and success under her mentorship and support.
Heather discovered she was receiving her MBE after a letter from Buckingham Palace was delivered to her home early December 2021: "I received my letter to say that I had been awarded an MBE for Services to Further Education and the Elderly Community in Northern Ireland.
"It was such a wonderful surprise, but it stipulated that I was not allowed to tell anyone outside my immediate family until the New Year's Honours list was released on 31st December 2021."
Heather finally received her MBE at Windsor Castle on Tuesday 8th November this year. She said the award ceremony and entire experience of the day was surreal.
She said: "Prince William presented me with my MBE and it was just so special to meet him. He was very personable and chatted away about my career in teaching as well as my involvement in community work."

"My husband and two daughters were invited to the Investiture with me in Windsor Castle. It was such a beautiful setting and everyone made us feel so welcome.
"Staff reviewed the protocols with you, including when to approach Prince William and how to curtsy – it was an experience I will always remember and cherish. I am very humbled to receive such an honour."

Heather spends her free time supporting a community initiative that ensures the elderly, socially excluded and other groups 'in need', have access to emergency intervention such as food, clothing and furnishings.

She said: "I have had a great career teaching in Belfast Met and am very grateful. I volunteer in my community in The Warehouse Newtownards where we provide support with food/cooked meals, Wear n' Share clothing and advice on debt management and mental health issues.

"Silver Santa is also my Christmas elderly initiative providing Christmas presents for elderly care home residents who do not have family. I started this project after the death of my 92-year-old mum to COVID19 in 2020, so it leaves a great legacy to her"

When asked if she has had the opportunity to wear her MBE medal yet, Heather commented: "I haven't worn the MBE yet - I am keeping it safe in its box and it is on the house insurance!"