News
Paving the Path for the Future of Design with easyJet and Tailored Image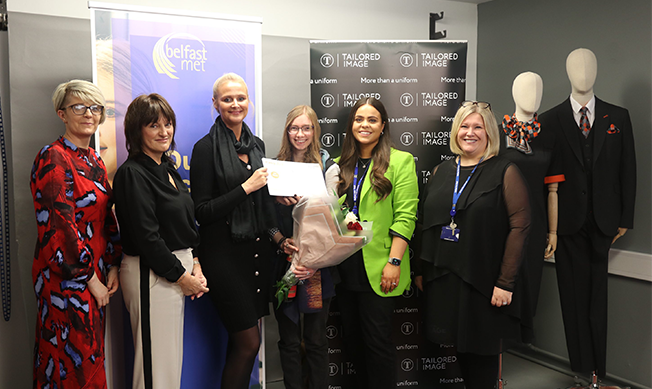 Published: 30 November 2022

Belfast Met has proudly partnered with easyJet and Tailored Image on a design project aimed at encouraging students to imagine and create the future of uniform design.
Having jointly won a sustainability award for the easyJet uniform, which is made from fabric derived from recycled plastic bottles, a conversation was generated between Tailored Image and easyJet around what could be done to collaborate with young people and excite them about the future of uniforms. This led to engagement with Belfast Met and the idea for this competition was born.
Students were tasked with the brief of designing a new uniform portfolio for easyJet cabin crew, sparking huge interest and generating some remarkable designs. The winner of the competition would receive a cash prize as well as the opportunity to spend a 6 month placement with the design department at Tailored Image, with prizes also for 2nd and 3rd place available.
The standard of work produced was extremely high, with a huge effort having gone in from the students and very impressive attention to details in their designs. The judges were faced with a difficult decision, but Claire Surgenor emerged as winner, with Rocio Munoz coming second and a tie for third place between Siobhan Twomey and Isabella Shaw Nicoll.
Caragh O'Hagan, Course Director for Fashion Production and Business spoke of how impressed the college staff and students were by the initiative:
"The Tailored Image team are doing an excellent job of helping promote design in Northern Ireland and by getting our students involved they are helping pave the way for the next generation. It's really impressive to see a company from Northern Ireland providing such high-profile uniforms as that of the easyJet portfolio. It's so important for our students to get an opportunity to work within the industry and to see that they don't have to travel beyond Northern Ireland in order to get the opportunity to work with such global brands."
Speaking of their involvement in the project, Natalie Puncher, Head of Cabin Standards and Customer for easyJet commented:
"This initiative has given us an excellent opportunity to engage with the future generation of designers and has sparked some great ideas about what we want to do for the future, as well as giving the students a brilliant experience. We're very passionate about developing the next generation and both ourselves and Tailored Image felt really strongly about getting local people involved with the industry and specifically in regards to uniform design."
This passion and enthusiasm for the project is wholeheartedly shared by Tailored Image. Head of Technical and Design, Caroline McAdam, commented
: "We're delighted to have been involved in the creation and implementation of this design competition with easyJet and the Metropolitan College. We have been overwhelmed with the quality of work produced by the students and it's an excellent sign of things to come – we're excited for the future of design in Northern Ireland!"
Find our more about Fashion at Belfast Met