News
Belfast Met students win prestigious accolades at the 2022 Pearson BTEC Awards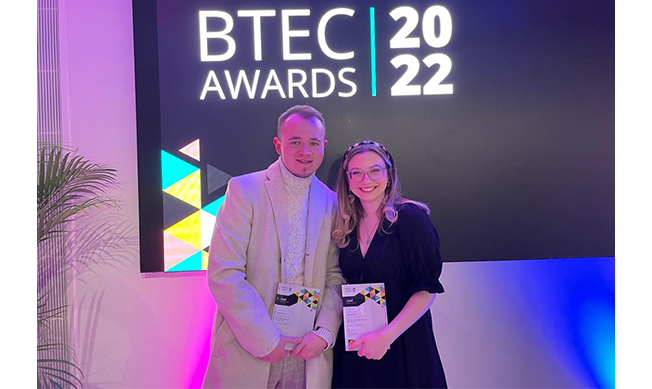 Published: 25 November 2022

Students from Belfast Metropolitan College have been commended for their hard work and drive for excellence at the 2022 Pearson BTEC Awards by winning gold and silver awards in two top categories.
From thousands of entries across the UK, three students have been recognised for their exceptional achievements in vocational learning. Their outstanding accomplishments were celebrated at an awards ceremony at Pearson Head Offices in London where they received their prestigious accolades.
Domhnall Morris, who studied BTEC Level 2 in Music Skills in 2020-21, was awarded the gold accolade of Music Student of the Year after he was recognised by his mentors for his hard work and determination towards music studies.
Curriculum Area Manager for Electronics, Media and Music, Alan Serplus said
: "We are extremely proud of the success of Domhnall in achieving this award. As a mature learner his commitment to the learning and development of his music skills is outstanding, considering his difficult previous school life.
"Domhnall has overcome many challenges and has acted as a positive role model within the centre inspiring all students regardless of ability to become more enthusiastic about their craft. We wish him well in his future learning and believe he will be extremely successful in the industry approaching everything with the motto "Peace and Love."
The remarkable accomplishments of student Siomha McStay were also celebrated as she was awarded the gold BTEC Award for Creative Media Learner of the Year 2022 as her remarkable achievements stood out among an international field of candidates and wowed the judges.
"Siomha is extremely creative, producing original engaging content with ease with an endearing commitment to her craft for a level 3 students. She also has a keen awareness of mental health and wellbeing sharing that knowledge to support her fellow classmates over the last two difficult year.

"We within the Belfast Met Film and Television School wish her every success in her future learning and work within the Creative Media Industry."

Belfast Met student Reece McKnight was awarded the Silver in BTEC Music Student of the Year after his hard work and dedication to the course impressed the judges. His determination and progression from the beginning of the course to the end has seen him flourish.

Gregory Ferguson, course coordinator of the Level 2 programme said: "It has been a privilege to watch Reece develop during his time at Belfast Met and to have made a contribution in facilitating that.

"Reece is a very warm and personable student who responded fully to the challenges he faced, growing a great deal, and achieving some excellent music work in the process!"

Award winners were recognised by Pearson in over twenty categories across the UK, including Health and Social Care, Engineering, Music, Esports and Creative Media, with each winner selected from thousands of eligible students.

Many of these industries are suffering from chronic staff shortages and skills gaps, which this year's cohort of graduates – whether they were Award winners or not – will be more than equipped to fill.