News
Choose Success with a Rewarding Lecturing Career at Belfast Met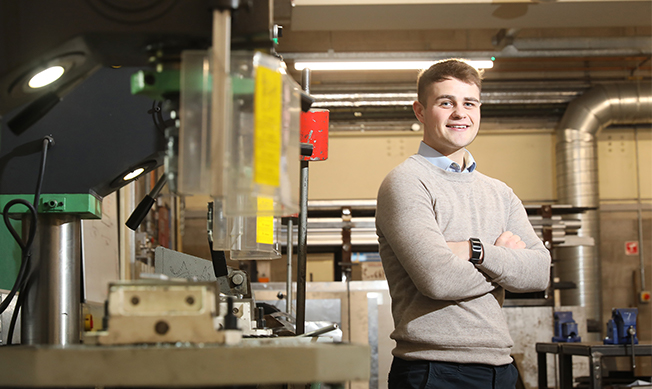 Published: 28 February 2022
If you are looking for a rewarding career, Belfast Met is recruiting for Part-Time lecturers from 9th March.
The College provides an industry led curriculum and is recruiting for its Part-Time Lecturing Register across all areas in our Schools of Science, Engineering and Construction, Health and Wellbeing, Creative and Digital Industries, Academic and Continuing Education and the Belfast Business School.

Pearse Magee, Lecturer in Manufacturing Engineering, outlines how he used his industry experience to become a Part-Time Lecturer in Engineering at Belfast Met.
"Like all of my teaching colleagues at Belfast Met, I came into teaching after working in industry. Since 2019 I have been teaching a wide range of Engineering classes including welding skills, machining and computer aided design.
My favourite subjects at school were Science and ICT and after my GCSE's I completed Lower 6th and then decided to enrol for Level 2 in Engineering at Belfast Met. I then went on to complete a Level 3 Mechanical Manufacturing apprenticeship, training with Belfast Met and employed by Crossle Cars who build and export bespoke racing cars worldwide.
I had a comprehensive apprenticeship there and recall the foreman telling me how important it was to be skilled in all areas. Working there accelerated my progress in the world of engineering and I received a City and Guilds Medal of Excellence for exceptional achievement throughout the course.
After completing my apprenticeship, I enrolled onto the Higher National Certificate in Engineering with Belfast Met. I also applied for the Part-Time Lecturers register and after a successful interview, I started teaching at the College, studied a Foundation Degree in Mechanical Engineering last year, and was able to learn as I earned as Part-Time lecturing was so flexible.
It's so rewarding to see my students progressing and I enjoy teaching them new skills and seeing them do well. For anyone considering a career in lecturing the necessary skills are to be open, patient and willing to learn. I would also say don't be afraid to take a leap and try something different. Many lecturers, like me, have come from a career in industry and gone into lecturing.
I have a great rapport with my students, many of whom are sitting in the same place I was in a few years ago, so it's incredible to think that now I can give them direction and guidance. Every day is different, teaching in both the workshops and in the classroom, and I love it."
Choose success with a career at Belfast Met and apply to join the Part-Time lecturing register. Applications open from 9th March. Search for lecturing vacancies here.
Learn more about careers at Belfast Met here