News
Belfast Met learners graduate from Belfast City Council's first Business Services Academy.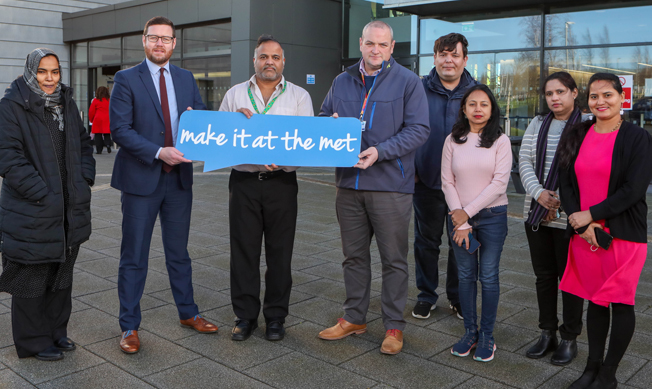 Thirteen learners who completed the first Business Services Academy are on their way to career success following three weeks of intensive training at Belfast Met. The successful participants were delighted to be presented with their certificates by Aidan Sloane, Director of Development & Digital, at a celebration event at Belfast Met's E3 campus.
Belfast City Council sponsor and fund the Business Services Academy which is the first Academy delivered by Belfast Met in partnership with the Belfast Works Consortium. The Academy has provided the participants with pathways to potential job opportunities through structured engagement with Kennedy Recruitment and Premiere People NI recruitment agencies. The participants developed their skills in professional social media, IT, communications, team working, employability and much more.
The Business Services Academy equips participants with the practical skills needed to get a job in Belfast's growing professional and business services sector. Following the success of this first Academy, a second one is now planned, due to commence on 17th January 2022. This is a unique opportunity for residents of the Belfast City Council area and those who are not in work or are working less than they wish to and want to pursue a career within the Business Services area.
The first Academy has been linked to active recruitment and roles currently available through the supporting recruitment agencies Kennedy Recruitment and Premiere People NI that participated in the programme delivery, and assisted participants with queries related to jobs currently available. These agencies have a large number of exciting roles available now with some of Northern Ireland's biggest and best employers. Other employers are now also engaged with the College and will be involved in subsequent Academies in 2022.
The training includes hearing from guest speakers working with employers and recruitment agency partners in the construction, retail, HR and hospitality industries. Participants also heard from other business professionals and employers who gave guidance on moving into employment that included careers advice, how interview panels work, time management, effective communication, teamwork and professionalism in the workplace.
Aidan Sloane, Director of Development and Digital, said, "Belfast Met is delighted to be delivering the training for this new Business Skills Academy and would like to congratulate our first cohort of learners who have completed this bespoke training in Business Skills.
"Our learners receive the most up-to-date, industry-relevant training in this growing sector and we provide programme participants with vital opportunities to gain employment after completing their course. The College looks forward to continuing this valuable partnership with Belfast City Council that will support people to reskill and upskill to gain employment in jobs that are in demand by employers."
Councillor Ryan Murphy, Chair of Belfast City Council's City Growth and Regeneration Committee, said: "The response to the Council's first Business Services Academy has been really positive. This is the first in a series that we plan to roll-out next year. I want to congratulate the participants on completion of their training and wish them every success in securing future employment in the city's Professional and Business Services sector."
If you live in Belfast and aren't currently employed, or you're working less than you want to, contact us for more information. Support will be available for travel and childcare. Email your expression of interest to apply to the new Business Services Academy starting on 17th January to [email protected].
Find out more about Belfast City Council's Employment Academies on the council website at https://www.belfastcity.gov.uk/employmentacademies