News
Planet Mark Arrives In NI With Gencomm On Board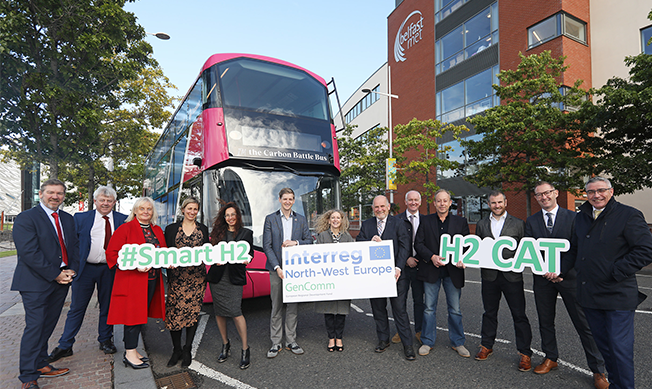 Published: 5 October 2021

This UK wide tour has been set up to illustrate the actions the business community are taking to address the climate crisis. The Planet Mark team of experts are on a mission to build a sustainable, brighter future for us and the planet. People who engage with the tour will leave understanding what net zero carbon means, why it is important and how organisations can align with net zero targets. On the week long tour of Northern Ireland , (September 27-October 1), the zero carbon Planet Mark battle bus stopped off at various key locations highlighting key NI projects, companies and initiatives as part of their quest to cut carbon emissions by 50% by 2030.
Organisations can reduce carbon to help them become more competitive and reduce waste for instance. The Planet Mark team can help organisations with what they can do around sustainability, ie: choice of vehicles, and how they package food. The aim of the tour is to collect zero carbon stories from around the UK including Northern Ireland and then proceed to tell the stories to leaders at COP 26, the UN Climate Change conference from November 1-12, 2021 in Glasgow.
On Monday 27 September the Planet Mark team visited Translink Milewater Service Centre at Milewater Road, Belfast. This is the site of the first new hydrogen refuelling station in Northern Ireland.

Later on Monday a number of interviews were carried out at the Salthouse Eco-hotel in Ballycastle including with Michael Cecil, Chair of the Rathlin Community and Development Association who highlighted their community innovation showcase solutions for GreenH2 as the catalyst for sustainable tourism 360˚ Destination Green©

On Tuesday September 28 the team stopped off at the Wrightbus factory in Ballymena. Neil Collins, MD of Wrightbus was interviewed about their hydrogen bus production. As part of the innovative Green Hydrogen production a case study on the GenComm project was conducted with Programme Manager Paul McCormack.

Following a visit on the 29th to the Guildhall in Derry city and on the 30th to Stormont Parliament buildings, the final stop on the tour On Friday October 1st was at the Belfast Metropolitan College TQ campus to capture the leading role Further Education is playing in the global hydrogen revolution.

Commenting on the visit of the Planet Mark team and the zero carbon bus Belfast Met Principal and Chief Executive Louise Warde Hunter stated, 'This week long awareness event is very welcome to help explain and demonstrate what zero carbon actually means. Through our ground breaking work including leadership of the European wide GenComm project we have developed new and specialised industrial links in the hydrogen economy as part of our journey to net zero. Our work with industry, public authorities and other partners is helping create a hydrogen economy for Northern Ireland, creating environmental, commercial and economic advantage.'

Chris Corken Head of Department of Science, Engineering and Construction stated 'Our GenComm programme aims to develop a sustainable energy matrix for the North West Europe region by creating three renewable hydrogen facilities across Europe. We want to empower communities to implement hydrogen based energy matrixes to sustainably satisfy their energy demands. We would like to thank the Planet Mark team for this opportunity to highlight our success as we look forward to sharing this also with world leaders at COP26.'