News and Events
New Deloitte Assured Skills Academy offering 24 high quality training places for graduates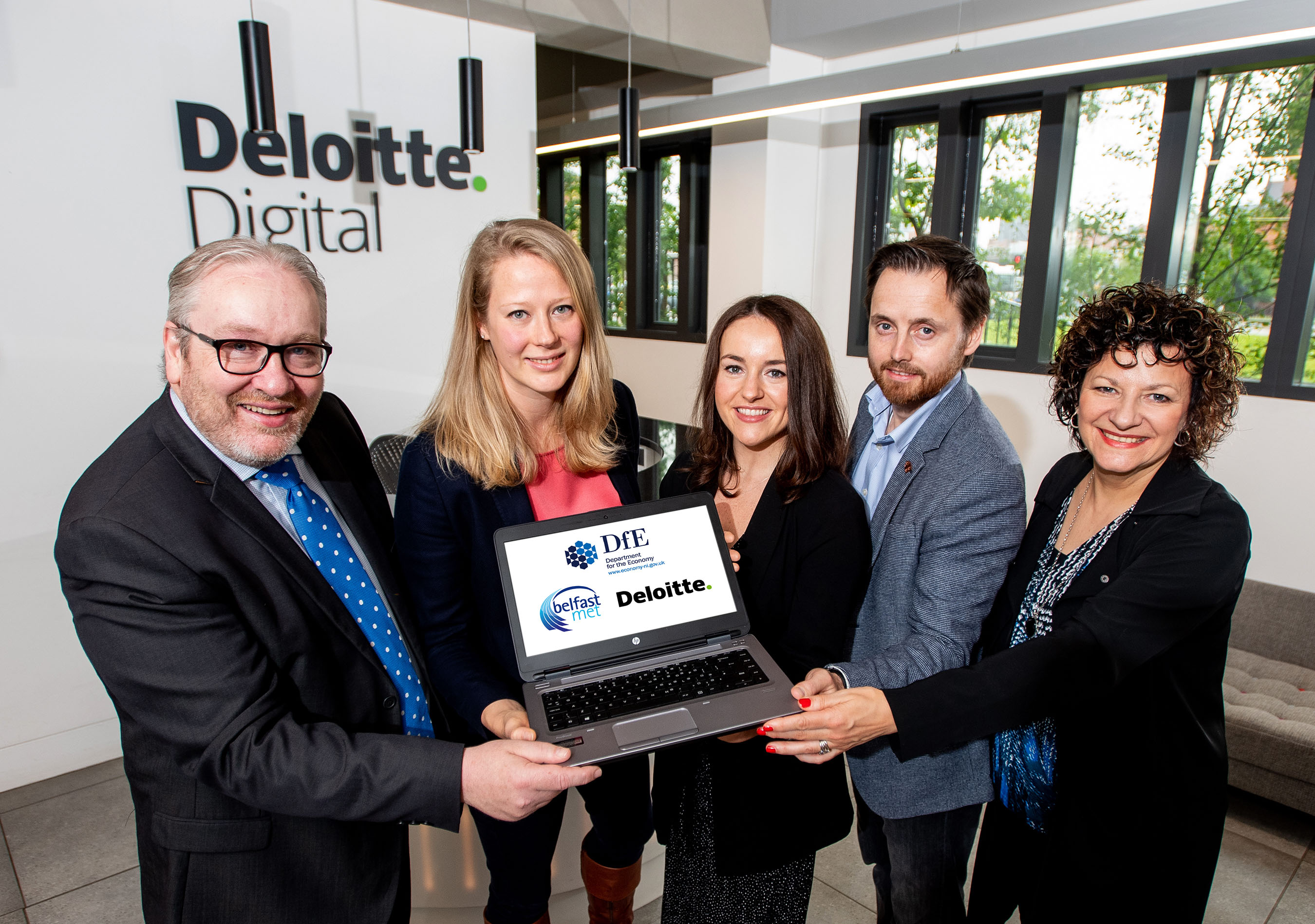 A brand new Deloitte Assured Skills Academy is offering 24 graduates the opportunity to gain the skills needed for a career in business consultancy using the latest technology and software.
Funded by the Department for the Economy, the new Enterprise Transformation Academy will deliver nine weeks of industry-relevant pre-employment training at Belfast Metropolitan College, covering the very latest areas in business analysis, project management and market-leading software.
Participants who successfully complete the training will receive a guaranteed job interview with Deloitte.
Highlighting the successful track record of Assured Skills Academies, Ann Williamson, Head of Employer Skills at the Department for the Economy, said: "This new Assured Skills Academy in Enterprise Transformation with Deloitte and Belfast Met will see participants gain valuable training in the very latest business consultancy software and techniques.
"The Assured Skills Academy model has been very successful in providing a pipeline of skilled people to growing local businesses. The Department is continuing to work with local employers and Further and Higher Education providers to develop more Assured Skills Academies in the coming months."
Ciaran Fitzpatrick, Technology Director at Deloitte, said: "The new Enterprise Transformation Academy is a unique and exciting opportunity for 24 graduates to join a fast-growing and cutting edge team, and be on the forefront of new technology.
"During the academy, participants will receive training across a range of areas, and gain an industry-recognised certification in ServiceNow, one of Deloitte's key technology alliances and an increasingly important enterprise technology. Applicants don't need prior experience in business technology consultancy or ServiceNow software. A 2:2 degree in any discipline is all that is required.
"With more than 200 people employed by Deloitte following Assured Skills Academies, this is a proven route for graduates seeking to start a career in business technology consultancy."
Damian Duffy, Director of Development at Belfast Met, said: "We have been delivering Assured Skills Academies with the support of the Department for the Economy and in partnership with Deloitte, and other companies, for more than eight years. We have trained hundreds of participants and have a strong conversion rate of securing employment for Academy graduates.
"We are pleased to once again be providing training in the very latest business consultancy techniques and look forward to welcoming the next cohort of successful applicants."
Participants on the Academy will receive a £150 weekly training allowance, be reimbursed travel expenses and may be eligible for childcare allowance.
Applications for the Deloitte Enterprise Transformation Assured Skills Academy are open until Friday 28 June 2019. Applicants must have a minimum 2:2 degree in any discipline and no experience is required.
For more information and to apply visit
http://www.nidirect.gov.uk/assuredskills