News and Events
Local student secures job at Citi thanks to Career Ready programme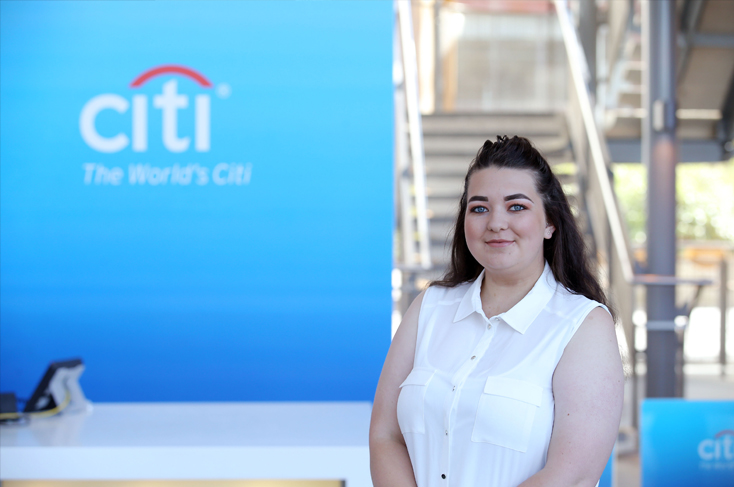 Rebecca, who completed the Career Ready programme in April 2018, secured the position at Citi Belfast after impressing the organisation during her Career Ready internship. She was one of 11 Belfast students given a six week paid placement at Citi during the summer of 2017.The Belfast Metropolitan College Student, who has recently completed a BTEC Level 3 Extended Diploma in Business, overcame competition from university graduates to secure the position. She will start her full-time role in the Equity Settlements Team in July 2018.
Citi has partnered with Career Ready since 2002 through the Citi Foundation to give young people the skills, confidence and attitudes necessary for success in the world of work. The programmes is part of the foundation's Pathways to Progress initiative.
Speaking of her success, Rebecca said the following:
• "I am delighted to have been appointed to the Settlements Team at Citi Belfast. During my Career Ready internship at Citi, I was made to feel welcome from the very start and I got a real sense of satisfaction from the challenging work I was given. The opportunity of working in an organisation as professional as Citi, made my decision to apply for a full-time position as opposed to going to university very easy. I would like to thank Career Ready for helping me to secure this position by providing me with an internship at Citi.
James Allen, Senior Vice President at Citi Belfast, who managed Rebecca during her internship, said the following:
• "Rebecca was an outstanding Intern when she was at Citi. Her work ethic and positive attitude made her a very valuable intern and in the future will be a strong asset to Citi".
Heather Houston, Career Ready coordinator at Belfast Metropolitan College, said:
• "We are absolutely delighted for Rebecca! She has worked so hard over the past 2 years on her BTEC Level 3 Diploma in Business and Career Ready programme. She really deserves this wonderful success. She is our first Career Ready student to progress from Further Education into a full-time position with her Internship provider. Citi are magnificent supporters of Career Ready and have now taken their investment a stage further by facilitating college students to compete with university graduates for roles within the organisation."
Career Ready is a UK-wide charity, which aims to make young people work ready by delivering a programme of mentoring, masterclasses, workplace visits and internships in schools and colleges across the UK.
In the last academic year, Career Ready supported 200 young people in Northern Ireland, providing them with the skills, confidence and opportunities to kick-start a successful future.