News and Events
Belfast Met wins FUSION Project Exemplar Award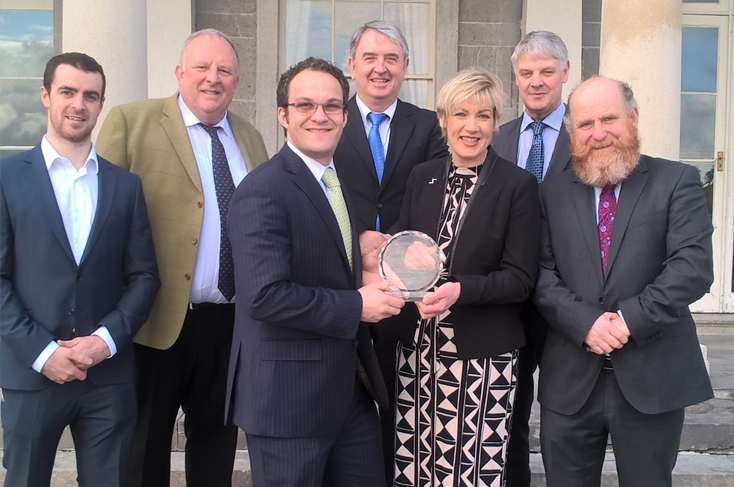 Cork company Ceramicx has been awarded 'FUSION Project Exemplar' status by InterTradeIreland, as part of its Fusion programme.
The initiative supports business development and innovation by partnering companies north and south with third level institutions, and high calibre graduates in science, engineering or technology for up to 18 months. The graduate works directly with the business to deliver new products or improved processes.
Based in Ballydehob, Ceramicx specialises in industrial infrared heating elements and heating systems; one of only six companies of its kind in the world. Ceramicx products are used by companies in a wide range of industries including luxury car company, Aston Martin, and US multinational, Corning Glass, which produces the curved glass screen for Samsung mobile phones.
Through the Fusion programme, Ceramicx benefited from the expertise of Belfast Metropolitan College graduate, Dr. Peter Marshall who was mentored by academic Mr. Findhan Strain. Dr. Marshall joined InterTradeIreland's FUSION initiative following the completion of his PhD and has, after completing the programme, secured a permanent position in Ceramicx's research and development department.
The partnership between Ceramicx, Belfast Metropolitan College and Dr. Peter Marshall, enabled the development of a unique drape-forming machine for use in the composites industry. The machine was exhibited at the largest composites show in the world, JEC World in Paris, which raised the company's profile significantly.
Discussing the benefits of InterTradeIreland's support, Frank Wilson, Managing Director, Ceramicx said: "Our partnership with Belfast Metropolitan College worked extremely well. Mr Findhan Strain was a first class contact for Ceramicx and we will continue to work with him into the future. The marriage between Ceramicx and Belfast Metropolitan College resulted in this InterTradeIreland project, ensuring that our business can evolve and develop."
Ceramicx was one of four SMEs awarded 'Project Exemplar' status by InterTradeIreland at an event held today in Carton House Hotel, Co. Kildare. The other companies are Cf Pharma in Kilkenny; Deluxe Art & Theme in Co. Armagh and Statsports Technologies in Co. Down.
These SMEs were judged to be the four best FUSION projects of 2017 in terms of the level of innovation, benefits achieved and overall contribution to the programme. Between them, the 'Project Exemplar' companies have reported combined sales, savings and investments of over €570,000 and have projected further sales, savings and investments of almost €20m over the next three years.
Speaking at today's event, Margaret Hearty, Director of Programmes and Business Services at InterTradeIreland said: "We are delighted to support ambitious companies across the island which are committed to innovation. I would like to recognise the hard work and dedication of the participants in these FUSION Exemplar projects, who have made great strides in their respective industries through this collaborative project. The results so far are impressive and I wish them well for the future. Hopefully, these successes will encourage other SMEs to consider the benefits of taking part in the Fusion programme."
For further information on the FUSION programme please visit www.belfastmet.ac.uk/FUSION