News and Events
Belfast Met driving business innovation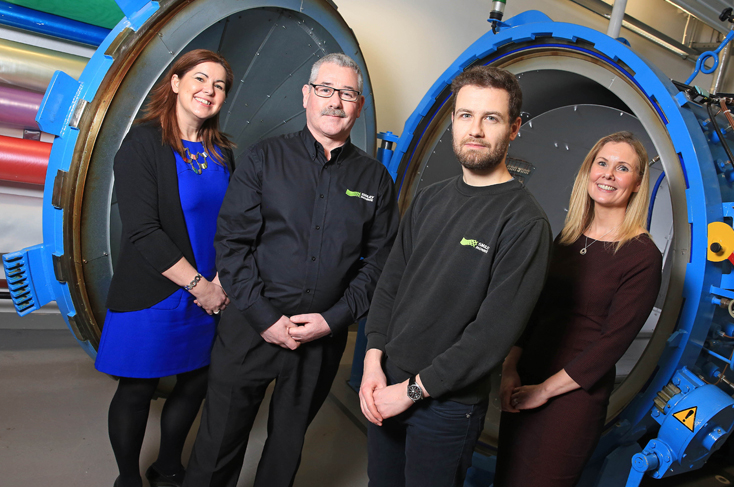 Innovation by definition is to create something new and is one of the primary drivers for economic growth. The act of innovating is essential for the continued success of any organisation. It enables businesses to stay ahead of competitors, become more efficient, generate greater profit margins and break into new markets.
This is reflective in the Northern Ireland Executive Innovation Strategy 2014-2025, which states "Northern Ireland, by 2025, will be recognised as an innovation hub". The strategy aims to improve knowledge by developing the skills required for innovative companies and increase business to academia collaboration.
At Belfast Met, we recognise the importance of developing skills to encourage innovation and provide access to expertise and facilities that support businesses to innovate. From a range of government programmes designed to facilitate innovation in SMEs, Belfast Met work closely with companies to progress them up the innovation escalator.
Through the Employer Support Programme, funded by the Department for the Economy, small companies can receive fully funded, tailored mentoring to help them develop new products or services. Within the past two years, Belfast Met has mentored over 100 companies which has led to results such as prototype development, increased sales, new job creation and increased confidence to innovate. In March 2016, 98% of companies who had completed the programme that year stated that the acquired skills would enable them to innovate in future.
"Belfast Met provided me with the skills to visualise, manufacture and develop my product prototype. It has also given me confidence and ambition to take it to the next stage. The prototype has already won two business idea awards and I have no doubt that Belfast Met's input to this has been a key factor." Irene Breen, BellaMoon®
In addition to upskilling the work force, The Northern Ireland Strategy for Further Education "FE Means Success" is committed to supporting employers in a range of areas such as product design, research and development and knowledge transfer.

At Belfast Met companies can avail of college expertise in a wide range of sectors, including; Advanced Manufacturing, Engineering, ICT, Emerging Technology, Food Production and Testing, Gaming and Textile Manufacturing.

Innovation Vouchers, funded by Invest Northern Ireland, provide an excellent route for SMEs to research, test and prototype new product and service concepts through utilising knowledge in colleges and universities across Ireland. With facilities such as a composites autoclave, metal fabrication workshop, science laboratories and textiles workshops, Belfast Met is well positioned to assist companies with testing and prototyping of their innovative new product concepts.

"The help and advice that Belfast Met gave to me was excellent. They developed multiple prototypes through an Innovation Voucher. With their support I am so much closer to my dream than I ever thought." Tracy McComb, Skin-a-kin

One of the aims of The Northern Ireland Executive Programme for Government is to "strengthen the knowledge exchange system between universities, colleges and businesses" and through the Connected Programme, funded by the Department for the Economy, colleges and universities collaborate with each other and local businesses to improve knowledge and skills in emerging innovative areas. Belfast Met has invested in areas such as Cyber Security, Data Analytics, Internet of Things, Connected Care and Advanced Materials.

As a result of the work in Advanced Materials, local company Smiley Monroe was approved funding to work with Belfast Met on a Knowledge Transfer Partnership (KTP) funded by Innovate UK and Invest NI. This programme recruited a recent graduate on a 2 year programme to design and manufacture a new product range from advanced materials to improve global competitiveness and innovation. Through support and collaboration by both the company and Belfast Met this project has been a great success.

'Through the support of Belfast MET and the KTP programme, Smiley Monroe has seen reductions on production time and waste output resulting in measurable cost savings. In addition, access to the modern lab facilities of Belfast MET, has provided excellent technical support and mentoring in advanced materials, to both the KTP student and the Company.' Wesley McAvoy, Business Improvement Manager at Smiley Monroe

According to the European Commission Innovation Scoreboard, Northern Ireland is classed as a Strong Innovator Region with particular strengths identified in SME collaboration and tertiary education. Belfast Met are here to help facilitate and drive innovation in business and strive to ensure Northern Ireland is recognised as an innovation hub by 2025.
Find out more about our range of business support services