"I have gained so much confidence not only in my work but in myself."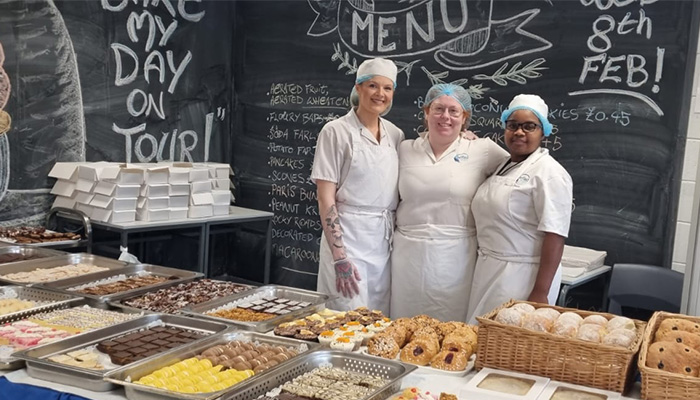 Student Rebekah Coyle shares her experience of studying Bakery at Belfast Met.

My interest in Bakery...
"The reason why I decided to start studying Bakery was during the first lockdown, I had discovered a love for baking. This came about as it is also what my dad does for a living as he owns a bakery of his own called Coyle's Home Bakery. The family ties boosted my interest during lockdown and helped me discover my love for it. After baking for a while, I started to work with my dad. He then told me about the course here at Belfast Met as he also studied it when he was younger. So, I applied for the course, and I am so happy that I did because it was one of the best decisions that I have ever made."
Being a bakery student...
"It is probably the most stressful but also most rewarding thing you could do. You have a large amount of work you do, however it is all worth it when a customer buys a product at Bake My Day and says how much they love it. Another proud moment when the hard work pays off is when I bring stuff home to my mum and dad and they tell me how much they enjoy the products that I make are. Seeing how proud they are of me growing as not only a student but as a baker is all worth the stress and hard work."
How studying at Belfast Met changed my life...
"My life has changed since studying the course for the better. It has changed not just from what I have been taught here, but the confidence that it has given me throughout my time studying course. When I first started here, I was the quiet person in the class too afraid to say anything."
"After being here for two years, I have gained so much confidence not only in my work but in myself."
My most exciting project...
"Bake My Day on Tour with Jordan Young was something I had never done before so it was so interesting and fun to do something different. It was also interesting learning how everything worked when planning something like this, the amount of work that would go on behind the scenes and people's reactions to the products that we made. It might have been a lot of hard work when making the products, however after we had finished, the sense of pride that I got for knowing that I was able to help create something like this was amazing."
Learn more about Bakery & Hospitality courses