Anna Gillespie; How she retrained to kick-started her thriving career in IT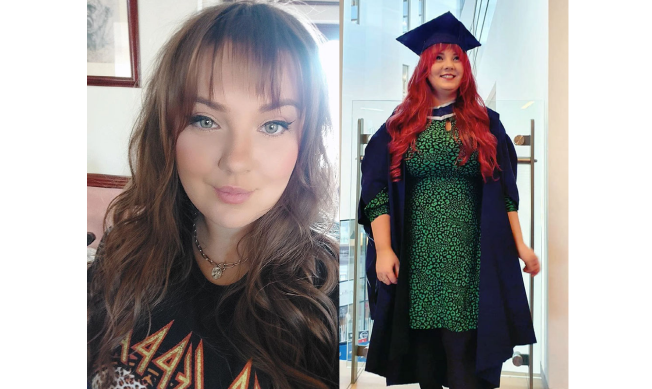 Anna Gillespie's need to retrain kick-started her thriving career in IT.

"Prior to the pandemic, I was working in the local Film and TV industry as a junior in the Art Department, my job included set design and prop buying. When the country went into lockdown the industry ground to a halt and I was left out of work for a long time. I decided I needed to retrain in a field that is growing and also provide me with future job stability and the potential to work remotely should I need to."
After some research, Anna found the thriving world of IT and decided to study a Level 5 in Cyber Security and Network Infrastructure on a Part-Time basis. Unfortunately, Anna wasn't eligible for a student loan, however, she describes how Belfast Met supported her journey.
"The college was brilliant at helping me and students in a similar position to myself, providing some funding to help with my course fees. This allowed me to go for it and retrain in an area which would put me on a career path to employment in the IT and cybersecurity sectors. "
Part of the course requires a 12-week work-based learning project. Anna was successful in securing her placement with Integral Project Services. Upon completion of the placement, Anna successfully secured a permanent role with Integral Project Services and now is completing her level 6 Apprenticeship in Cyber Security and Networking Infrastructure, with Anna due to graduate in January 2024.
"I am really enjoying the course; it is both challenging and engaging, whilst giving us the tools to apply what I have learnt in class to the workplace. Our tutors work tirelessly to help and support us throughout our modules and hold extra classes to make sure we do our very best come exam time. In comparison to my experience at university, the College has gone above and beyond to support me and take great interest in ensuring I am coping with everything the course throws at me."
"The best thing about the course is knowing that the skills and knowledge we gain are what employers are looking for in the industry when hiring. This is regularly reviewed to make sure what we learn stays up to date and keeps up with the ever-evolving technology and needs in the industry."
If Anna has inspired you to change your path in life visit - https://www.belfastmet.ac.uk/it-apprenticeship/