News
Belfast Met Named British Esports Student Double Champs!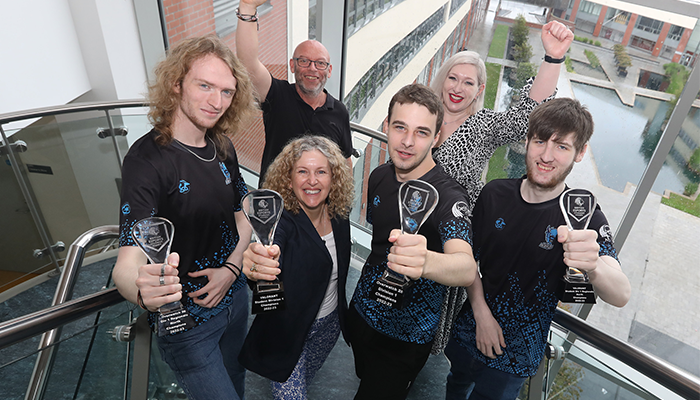 Belfast Metropolitan College's Esports team, the 'Belfast Met Buffalos' visited Confetti X in Nottingham Trent University to compete in the British Esports Student Championships, where they were named double Champions!

The British Esports Student Champs (aka "Champs™") is an exciting series of competitive video gaming competitions for students aged 12+ in schools and colleges across the UK. The Champs is open to all secondary schools, Further Education (FE) colleges and Alternative Provision (AP) schools in the UK and is PC-based. Each institution can enter multiple teams for four different games: League of Legends (5v5), Overwatch 2 (5v5), Rocket League (3v3), and VALORANT (5v5, aged 16+ only).

Belfast Met is the first College to have two teams qualify for the finals, which were livestream on Twitch, with the fantastic teams going on to reach the pinnacle and win both! The teams won in the Valorant and Overwatch competitions and brought home 4 trophies and 18 medals! The College is extremely proud of our other two teams who made it into the top 16 in the UK.

Belfast Met's esports course co-ordinator Michael Smyth said:
"We couldn't be prouder of our fantastic students who have excelled and represented Belfast Met outstandingly on the highest stage. At Belfast Met, our goal is to support and empower the next generation of esports professionals, equipping them with the skills and knowledge necessary to thrive in this dynamic and competitive field. We believe our esports offering represents unique opportunities for students to enhance their skills for future careers which has been proven with these fantastic results."
Esports is a rapidly expanding industry that offers great opportunities for students to excel in various areas such as video production, management, marketing, event organisation, and game design. Belfast Met is the first on the island of Ireland to offer a Foundation Degree in Esports, which is now open for applications and will commence in September 2023.
This Foundation Degree, created in partnership with Irish Esports organisation 'WYLDE', will look at the esports industry as a whole and consist of lectures and networking events, provide students with insider industry access and career placement within the industry opportunities. The College also offers Esports courses at Level 3.
Michael Smyth continued:
'Through our recent partnership with WYLDE esports, we are thrilled to lead the way in the advancement of esports education and development at Belfast Met. Esports is a rapidly expanding industry that offers great opportunities for students to excel in various areas such as video production, management, marketing, event organisation, and game design. WYLDE esports' expertise and experience in the field will undoubtedly enhance our curriculum and provide our students with valuable insights and industry connections."
Learn more about Esports at Belfast Met