News
Smash Bros Event successfully hosted at Belfast Met's E3 studios by Esports students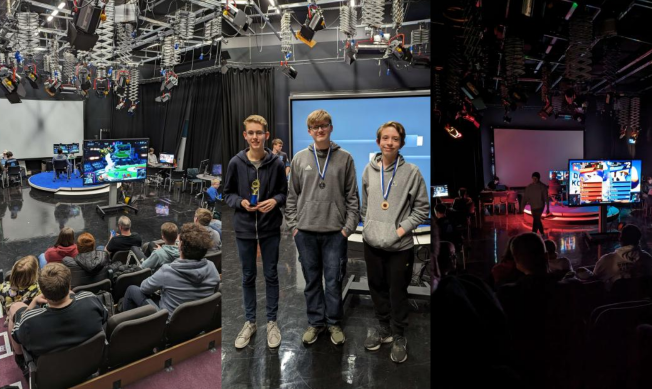 Published: Thursday 11 May 2023
On 3rd May 2023...
As part of their Event Management module, BTEC Level 3 Esports students at Belfast Metropolitan College successfully hosted a Smash Bros Event in the college's E3 Studios. The event was a huge success, with 23 tickets sold and a fantastic turnout from the college community. 

The students organised the event from start to finish, from marketing and promotion to managing the competition itself. Their hard work paid off, with attendees praising the smooth running of the event and the high quality of the competition. 

The tournament was a knockout format...
Players battled it out in intense one-on-one matches, with a nail-biting showdown between two highly skilled players. The eventual winner took home a cash prize and a trophy to commemorate their victory. 

In addition to the main tournament, the students also held a raffle. The raffle proved to be a hit with attendees, with many expressing their excitement at the chance to win some fantastic prizes.  

Esports can bring together a community...
The event was a great example of how like-minded individuals can come together and create an atmosphere of excitement and friendly competition. The BTEC Level 3 Esports students demonstrated their professionalism and dedication in organising the event.  

Joshua Lennon said, "I believe the event went very well and it helped me become more confident in running an esports event." 

Jack Campbell said, "I feel the event went well and helped boost my confidence in hosting an event. This event helped my organisational skills, having to make sure everything was timed right and set up perfectly. The fan interaction went well and even the games ran smoothly." 

Joshua Cherry "As being a part of the esports course I think that this event went very well as it was planned and promoted well on social media. The people of the Smash Bros community showed up and gave the whole event the atmosphere, with fans cheering and chanting for the players they wanted to win. it brought the whole Smash Gauntlet to life" 

Overall, the Smash Bros Event was a resounding success, and we can't wait to see what the BTEC Level 3 Esports students have in store for their next event!