News
Belfast Met's Shannon O'Doherty Named Apprentice of the Year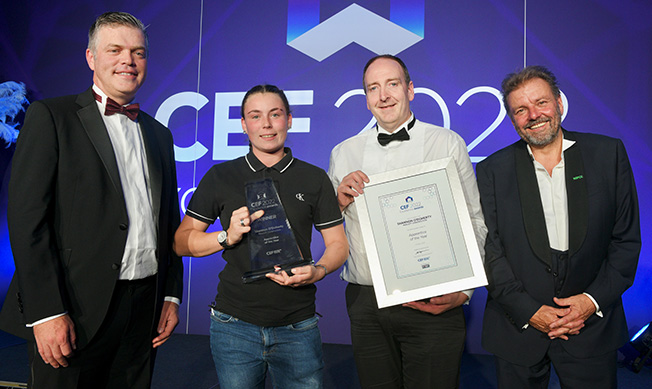 Published: 11 October 2022

We would like to extend a massive congratulations to student Shannon O'Doherty on winning the prestigious 'Apprentice of the Year Award' at the Construction Employer's Federation, Northern Ireland (CEFNI) Awards on Thursday 6th November at the Crowne Plaza.
Shannon was nominated by Mascot Construction for the award by CEFNI after joining the company in 2021 and immediately making an impact with her 'enthusiasm, drive and determination'.
She currently is a Level 3 apprentice in Wood Occupations at Millfield Campus, having completed Level 1 Construction in 2017 before progressing to Level 2 Site Carpentry the following year.
"Starting out was difficult trying to get an apprenticeship and it was only when I joined Women's Tec in Belfast that I was able to get an apprenticeship with Mascott in 2021.
Since then, I have seen my career really progress, working in one of their joinery squads on housing projects in Belfast."
The award recognises the positive impact apprentices have made on their company as well as commitment to personal development and progression within the industry.
Lisa McCaul of the Woman's Tec project said:
"Shannon is everything we could have asked for in a student. She has developed a skill of minimizing barriers and not letting them hold her back. We are so proud of the impact she has made with her employers so far and look forward to seeing what the future brings."
Kieron Flannery, Course Co-Ordinator for Level 3 Wood Occupations added,
"The team in Carpentry and Joinery are very proud of Shannon. Watching her development and progress over the years has been a pleasure. She is a real role model for breaking down barriers and overcoming difficulties in her chosen industry."
Find out more about Carpentry & Joinery