News
Belfast Met Announces First Sanctuary Scholarship Award Recipients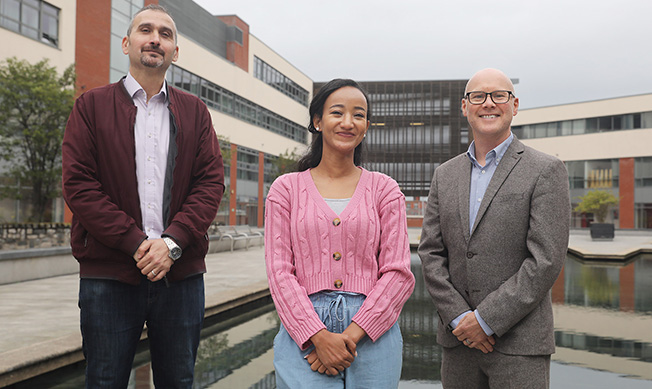 Published: 10 October 2022

Belfast Metropolitan College is delighted to announce the recipients of the first Sanctuary Scholarship Award.
The Sanctuary Scholarship Award has been made available to support Belfast Met students who are registered asylum seekers. Our congratulations go to Mr Jasim Muthanna and Miss Ghada Osman who will each receive the Scholarship to cover their course fees for 2022/23.
Ghada Osman has enrolled to study a Foundation Degree in Business Analytics with Belfast Business School. Originally from Sudan, she has lived in Belfast since May of this year, having had to leave her job as an administrative assistant and leave her family behind.
"It is life changing for me to be granted the sanctuary scholarship. I want to work as a data analyst which is my dream job, I'm not allowed to work here but have permission to study and I found the perfect course at Belfast Met. I am very grateful, and I feel blessed to have this opportunity."
Jasim Muthanna is studying a Higher National Diploma in Computing with the School of Creative and Digital Technologies. Originally from Iraq, Jasim arrived in Northern Ireland six months ago with a background in computing and technology. He now hopes to continue to work in this area in the future.
"The Sanctuary Scholarship provided me with a great opportunity to continue in this field. I cannot thank enough for the support, kindness and respect I received in this country. I hope that in the future I will be able to repay you this great service that I received by excelling and continuing to study and progress and help in the progress and building of this country."
The Sanctuary Scholarship aims to provide opportunities to those who are seeking asylum in Northern Ireland who do not yet have the right to work in the UK but can study. With extremely limited options to pay for their education, the College is keen to offer them support to access to education. The Sanctuary Scholarship has been made possible due to the support and funding of the Belfast Met Charitable Trust and Nationwide Building Society.
Harry Robinson, Head of Academic and Continuing Education said:
"Belfast Met is recognised as Northern Ireland's first College of Sanctuary and plays an important role in the education and integration of those seeking asylum in NI. We are delighted to be able to support these students in any way we can, and this award will go a long way to help them along their academic journey."
Belfast Met would like to congratulate both of our successful recipients and wish them all the best for their studies and every success in the future.