News
Future You expands into Northern Ireland in partnership with Belfast Met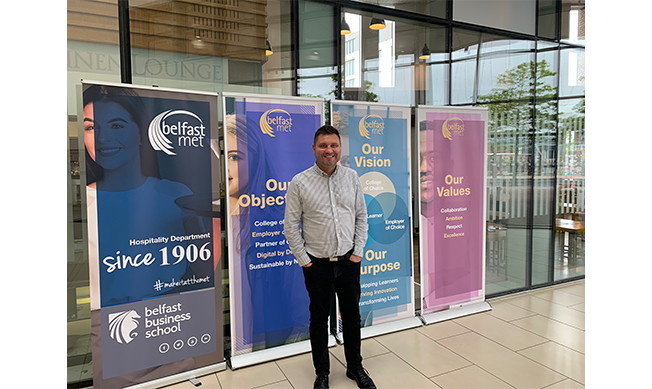 Published: 27 September 2022

A key pillar of the Future You Foundation launch was achieved today, as Belfast Metropolitan College was announced as the host partner for the first Future You 'On The Road' event in Northern Ireland. The event, taking place on Friday 21st October, will see the college's Titanic Quarter Campus welcome hundreds of Travel and Tourism students from across Northern Ireland, for an immersive careers in Travel and Tourism day.

Guest speakers already confirmed include Eimear Callaghan, Head of Programmes at Tourism Northern Ireland, and MICDrop Founder, Michael Dalton, as well as representatives from Contiki, the Institute of Travel & Tourism (ITT) and ABTA – The Travel Association; with more speakers being lined-up.

In addition to the industry speaker sessions, a panel session will hear from recent graduates working in the Northern Ireland travel and tourism sector and an interactive careers fair will be held, with local travel businesses, including travel agencies, tour operators and airlines, showcasing job opportunities to students.

Speaking as the announcement of the first Future You event in Northern Ireland was made, Future You Co-founder Danny Waine said "I'm absolutely delighted to be announcing our expansion into Northern Ireland. The team at Belfast Met are the perfect hosts for our first Future You event in Belfast. They share our passion for the industry, enthusiasm and desire to inspire the next generation of travel and tourism professionals. This event will stretch the imagination and ambitions of all students who attend".

Cate Murdock, Lecturer in Travel, Tourism & Events Management at Belfast Metropolitan College commented "It is a privilege to be chosen by ITT to host the first Future You event in Northern Ireland. Having attended previous Future You events I have witnessed first-hand how this inspires and motivates students beginning their career in Travel and Tourism. We are also delighted to offer industry the opportunity to meet and engage with students who are committed to progressing their career in travel, tourism and events management. Together we will celebrate the opportunities available to the next generation of our industry".

Waine added "One of the goals for the Future You Foundation for the 2022/23 academic year, was to expand our reach across the UK, to include events in Northern Ireland, Scotland and Wales. Announcements on host venues in Scotland and Wales will follow soon".