News
Celebrate Success Awards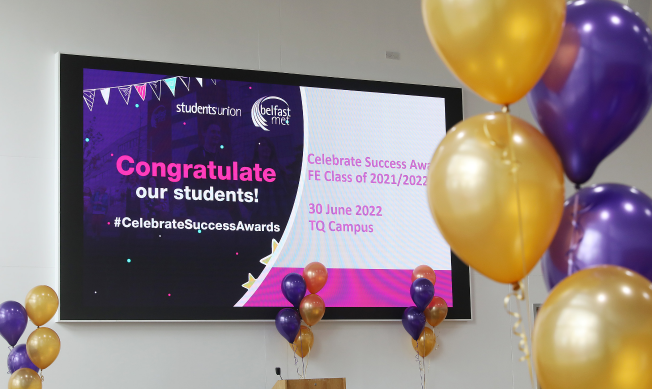 Published: 5 July 2022
After such a difficult few years it is so vitally important that we celebrate the success of our students.

Last Friday, 1 July 2022, Belfast Met Students' Union hosted our first #CelebrateSuccessAwards at our Titanic Quarter campus.
Our awards recognise excellence in learning, progress, and sustainability.

Please give a huge congratulations to our below winners.
| | |
| --- | --- |
| Academic & Continuing Education | |
| Student of the Year Award Level 1 | Shinlar Ali |
| Student of the Year Award Level 2 | Ezzaldeen Mohamed Maagouz |
| Student of the Year Award Level 3 | Kellie Hood |
| Spirit of the Met Award Level 1 | Jamie-Leigh Tweed |
| Spirit of the Met Award Level 2 | Shahram Pirouzi |
| Spirit of the Met Award Level 3 | Petsy Hughes |
| Digital by Design Award | Greg Gradwell |
| | |
| --- | --- |
| Belfast Business School | |
| Student of the Year Award Level 1 | Jack McFarlane |
| Student of the Year Award Level 2 | Mallory Barratt |
| Student of the Year Award level 3 | Cliodhna Barber |
| Spirit of the Met Award Level 2 | Christina Robinson |
| Spirit of the Met Award Level 3 | Sameja Metaj |
| Spirit of the Met Award Level 3 | Wilmon Sequeira Do Rego |
| Digital by Design Award | Andrew Lewis |
| | |
| --- | --- |
| Creative & Digital Industries | |
| Student of the Year Award Level 2 | Kayley Moore |
| Student of the Year Award Level 3 | Jonathan Hayward |
| Spirit of the Met Award Level 2 | Euan McClean |
| Spirit of the Met Award Level 3 | Jack Malcolm |
| Digital by Design | Lewis Rourke |
| | |
| --- | --- |
| Student Support | |
| Student Council Representative of the Year Award | Aryn Taylor |
| Class Representative of the Year Award | Euan McClean |
| Career-Ready Student of the Year Award | Alison Finnegan |
| Sustainability Student Champion Award | Christopher Robinson |
| | |
| --- | --- |
| Health, Wellbeing & Inclusion | |
| Student of the Year Award Entry Level | William Lynch |
| Student of the Year Award Level 1 | Chloe McAnoy |
| Student of the Year Award Level 2 | Wiktoria Krameris |
| Student of the Year Award Level 3 | Chris Cummings |
| Spirit of the Met Award Entry Level | Jack McKeown |
| Spirit of the Met Award Level 1 | Jimmy Calder |
| Spirit of the Met Level 2 | Leah McCabe |
| Spirit of the Met Award Level 3 | Sharon Brady |
| Spirit of the Met Award Level 3 | Caitríona Mclvor |