News
College supports Francis in achieving his goal of becoming a paramedic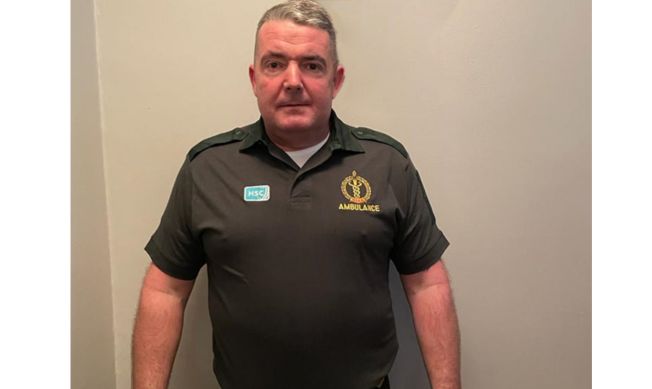 Published: 29 March 2022
Belfast Met lecturer, Caroline Kieran, who taught Francis Level 2 Essential Skills English, said: "Francis came to Conway having worked in construction since he was 16 with the goal of becoming a paramedic.
"He had been laid off during the first lockdown and had volunteered with the Ambulance Service which sparked his interest in becoming a paramedic. He didn't have the necessary qualifications, which is why he came to Conway to work towards achieving Level 2 Essential Skills in English and also achieved his Level 2 Maths at Belfast Met.
"I am extremely proud of Francis, who is now training with the Northern Ireland Ambulance Service. His new career will benefit so many people, and he has been such an inspiration to our adult learners."
Kevin Lavery, Curriculum Area Manage
r for Community Based Learning at Belfast Met's School of Academic and Continuing Education, confirmed: This is a very inspiring story of the benefits of adult education and would like to congratulate the team at Conway who all do fantastic work and support our learners to gain the confidence to achieve their ambitions.
Francis' achievement is an example of the importance of Belfast Met's work within the community, and I wish him every success in his future career."
The Conway Education Centre (CEC) is an active member of the West Belfast Partnership Board, Neighbourhood Regeneration groups and the Greater Falls Family Support Hub and also works in partnership with University of Ulster, Queens University and the Open University.
Hundreds of people a year are re-connected with education at CEC, gaining meaning qualifications and life-skills for people aged 7-81 years of age, and makes a significant contribution to social inclusion and community cohesion of the area.
For more details about Essential Skills courses click
here
or email Alison Young at
[email protected]