News
Outstanding Met Wolfpack through to the U18 Rugby Cup final at Kingspan Stadium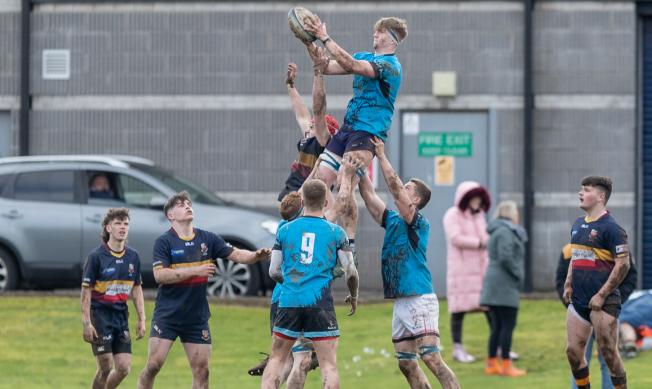 Published: 22 March 2022

Belfast Met's team established itself in the first half but then Banbridge took the lead when Ethan Graham converted a 7th minute penalty goal. However, Banbridge worked their way back into the game and took the lead to go 7-3 up after 32 minutes.
Belfast Met listened to their coach, because it was a very different performance in their come back in the 2nd half, when tries followed through Mark Anderson, 43 and 68 minutes, Cameron Patterson, 50 minutes and Graham 66 minutes, for a 23-7 Belfast Met lead. In the last move of the game Kia Shields pulled one back for Banbridge for a 23-12 final score.
Belfast Met's U18 team will now face Ballymena in the final of the Ulster Carpets U18 Cup which is the premier accolade in the U18's club season.
The final takes place this Saturday 26th March at Kingspan Stadium with kick off at 2.15pm. The team would really appreciate a big College crowd to come down and support them at this important match. Having made both League and Cup finals, the boys have cemented themselves as one of the top two teams in Ulster for the second season in a row.
As we look forward to the U18 Cup Final we wish the team all the best of luck and hope that there will be a good show of support for the team at the match.
Jennifer Goodall, High Performance Rugby Coach at Belfast Met, said: "These young men have done incredibly well this season having just come together as a squad last September. The Rugby Academy programme has a proven track record of producing champion teams within the space of a season, with continued success in the last number of years. Losing the league final to Ballymena in last play has stung, and the players are eager to prove themselves this Saturday when we face Ballymena again."
Tickets to the match can be purchased
here.
Applications for Belfast Met's Level 3 Rugby Academy – Sports and Exercise Science course are now open – more details
here

.
Follow #SeeBelieveAchieve #JoinThePack #HSAP (Holistic Student Athlete Programme)

Photograph of the home match last week of Belfast Met and Banbridge U18 Rugby match, courtesy of Bob Given © The Front Row Union.
Members of Belfast Met's Rugby Team: Ethan Graham, Callum FitzGerald, Jamie Carville, Cameron Patterson, Mark Anderson, Peter Gordon, Zak Wilson, Niall Dornan, Josh Graham, Daniel Porter, Muhammad Choudhry, Chaz du Plessis, Arthur Conlon, Nathan Boyd, Dylan O'Hagan, Conor McKee, Kobi Dunn, Adrian Donald, Dylan Cook, Ryan Caughey and Ryan Knox.