News and Events
Belfast Met Forges New Deal with Global Peace Center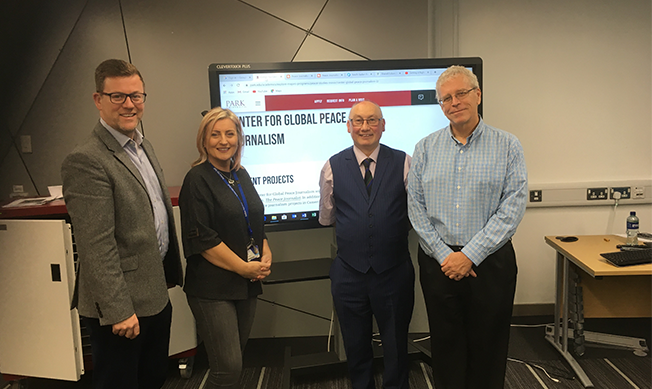 Journalism students from the Belfast Metropolitan College's E3 campus have forged a working partnership with the prestigious Centre for Global Peace Journalism in the United States of America.
That working partnership was unveiled when the Director of the Center, Professor Steven Youngblood held a lecture and workshop with Year Two students from Belfast Met's Higher National Diploma in Journalism at the E3 campus on the Springfield Road.
Also taking part in the Peace Journalism seminar was Belfast Met Journalism lecturer, Dr John Coulter, who has been a working journalist in Northern Ireland since 1978.
Dr Coulter said: "The Belfast Met has acquired a very credible reputation for delivering quality journalist training since the mid 1960s. This working partnership with the Center for Global Peace Journalism, based at Park University in Missouri, is further evidence of how Belfast Met is developing its international links for the benefit of the learning experience of our students."
During the recent seminar, Professor Youngblood delivered a highly interesting lecture based on his experiences in conflict zones across the world.
Journalism students also participated in a workshop in which they examined reporting techniques associated with Peace Journalism.
This was followed by a question and answer session in which students quizzed Professor Youngblood on his work on Peace Journalism, and Dr Coulter on his work in developing the new concept of Legacy Journalism.
Professor Youngblood said: "These young trainees represent the future of journalism in Northern Ireland and they all demonstrated an enthusiasm for the concept of Peace Journalism. We at the Center for Global Peace Journalism look forward to further developing this excellent relationship with Belfast Met in the coming months."
Belfast Met Journalism Co-ordinator Ms Lynda Bryans said: "This seminar shows that Belfast Met is once again at the very cutting edge of journalist training in Northern Ireland. As lecturers, we place a very heavy emphasis on law and ethics in our journalism and media courses. This seminar is a further example of Belfast Met demonstrating 'best practice' in the specific area of journalist training."
Belfast Met International Manager Mr Glen McMahon said: "Our developing link with the Center for Global Peace Journalism is just one example of how we at the Belfast Met are expanding our partnerships, not just with the United States, but right across the globe.
"At the heart of all our international projects is the learning experience for our students. We have already seen how this latest seminar in partnership with the visit by Professor Youngblood has benefited that learning experience here at Belfast Met."
Belfast Met Director of Curriculum & Learner Success, Dr Jonathan Heggarty MBE said, "We are delighted with this partnership with the Global Peace Centre. Belfast Met places great value in ensuring that our learners and staff gain from international networks and experiences and this link will greatly enhance our Journalism programmes in the College."