News and Events
Belfast Met Lecturer Celebrates MBE Award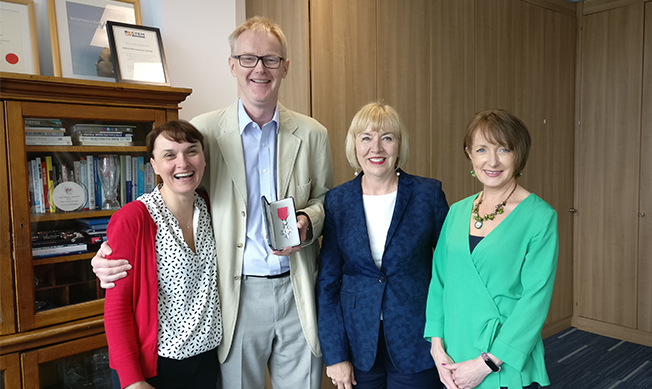 Belfast Met is extremely proud of Health & Social Care Lecturer Gerry Skelton who was recently awarded an MBE in the New Year's Honours List. Gerry, who lectures in health and social care as well as counselling was recognised for his amazing work with people how are or have been homeless and during The Troubles.
Gerry was invited to Chief Executive, Marie-Therese McGivern' s office along with Elaine Hartin (Director of Corporate Services) and Mary Coffey (Good Relations and Equality officer) to celebrate his magnificent achievement.
Speaking on the award and the recognition he has received, Gerry said,:
"I was delighted to share in an intimate gathering in the Chief Executive, Marie-Therese McGivern' s office, of 3 very important people to me who have helped shape and support some of the conscience-raising work I have done in the college and beyond.
Without the initial personal interest and subsequent encouragement of Marie-Therese, much of my early work in addressing homelessness, community relations, emotional and mental health, self-harm and suicide prevention, and so forth, would have continued to be frustrated. Indeed, she was the 1st Chief Executive / Director to attend my annual Homelessness Awareness Panel (HAP) Event, and later as a speaker. Her endorsement of this work has always been deeply appreciated by me and this is why I want to publicly acknowledge it. I was also deeply humbled when Marie-Therese agreed to not only be one of ten primary critical appraisers of my spirituality interview but also added her public endorsement to and for it, and without her, it is doubtful Mary Coffey and my efforts to get a Faith Room established in the college would have succeeded.
Indeed, it was from such interest and support, that Marie-Therese introduced Mary Coffey and I, and set us up as a discrete team to advance our respective agendas for embedding into college policy, practice and experience a more meaningful social conscience. This culminated in organising impacting events (including memorably our 'Challenging Hate and Promoting Inclusion' conference at the city Hall; 'Let's Talk' event; opening the Faith Room at our TQ campus, representing the College in Brussels, a plethora of community relations, anti-bullying, homelessness initiatives).
My MBE was awarded primarily for 2 reasons; my contribution to what I called 'Our Troubles' in NI and how I tried to make a positive difference to addressing and resolving; and work with young people in difficult circumstances, including awareness raising and action centred on anti-sectarianism, anti-oppression, poverty and disadvantage, and so on. Therefore, I found a willing colleague in Mary Coffey, who consistently demonstrated courage, a wholehearted determination to tackle the difficult issues, demonstrated tremendous reliability and fortitude; and shared my vision and belief in daring to challenge all of us to do better. I was and remain honoured to have worked with and for Mary; who is a real jewel in Belfast Met and, and through her selfless service brings such credit and distinction to it. "
Reflecting on Gerry's achievement, Chief Executive Marie-Therese McGivern said, "I and the whole college are thrilled for Gerry in receiving this national recognition for his tireless and inspirational work over many years. Gerry's passion, enthusiasm and concern for people is always evident in every encounter with him, and he often leaves you feeling challenged and uplifted. Congratulations, Gerry and the college looks forward to continuing to benefit from your work and impact".
Gerry also spoke of his thanks to Belfast Met's Director of Corporate Services, "I want to thank Elaine Hartin, who again was introduced to my work by Marie-Therese and has been a fantastic supporter and encourager over recent years; especially for my work in addressing homelessness. Elaine became a regular speaker at the HAP Event and I was honoured by how she helped me conclude a decade of the HAP. She was, and remains, an enthusiastic supporter of my other social conscience-raising activities inside and outside Belfast Met, and has always given graciously of her personal and professional time and resources to support my work, which is so lovely, especially from a Director.
Finally, I am deeply proud of receiving this MBE from the Government and touched by a more meaningful and pleasant encounter with Prince William than either of us had expected! The MBE was given in recognition for my small but obviously significant contribution to making NI better and less bitter place; as evidenced by the wonderful project leader behind the nomination and the 20 individual and agency endorsements across NI and beyond. Such acknowledgement – including that of my Colleagues, Management and Directorate across Belfast Met - is so amazing, deeply poignant and incredibly humbling for me on a personal and professional level."
Following on from this, Elaine Hartin commented, "I'm delighted for Gerry – his MBE is well deserved and a fantastic way to recognise the amazing work he has done in helping to make NI a better place. It was also a privilege to have shared in the HAP over recent years. Thanks and congratulations Gerry."
Belfast Met Good Relations and Equality officer Mary Coffey, concluded by saying, "This is a well-deserved award for Gerry in recognition of his tremendous work over a number of years. He made a significant contribution within the college to the promotion of equality and helped open our eyes and hearts to the issues affecting those who are or are at risk of homelessness. He also helped us challenge ourselves to do better not only in our work but also in our language and actions. Congratulations Gerry - a long over-due accolade."