News and Events
Belfast Met tutor wins a Pearson Silver Teaching Award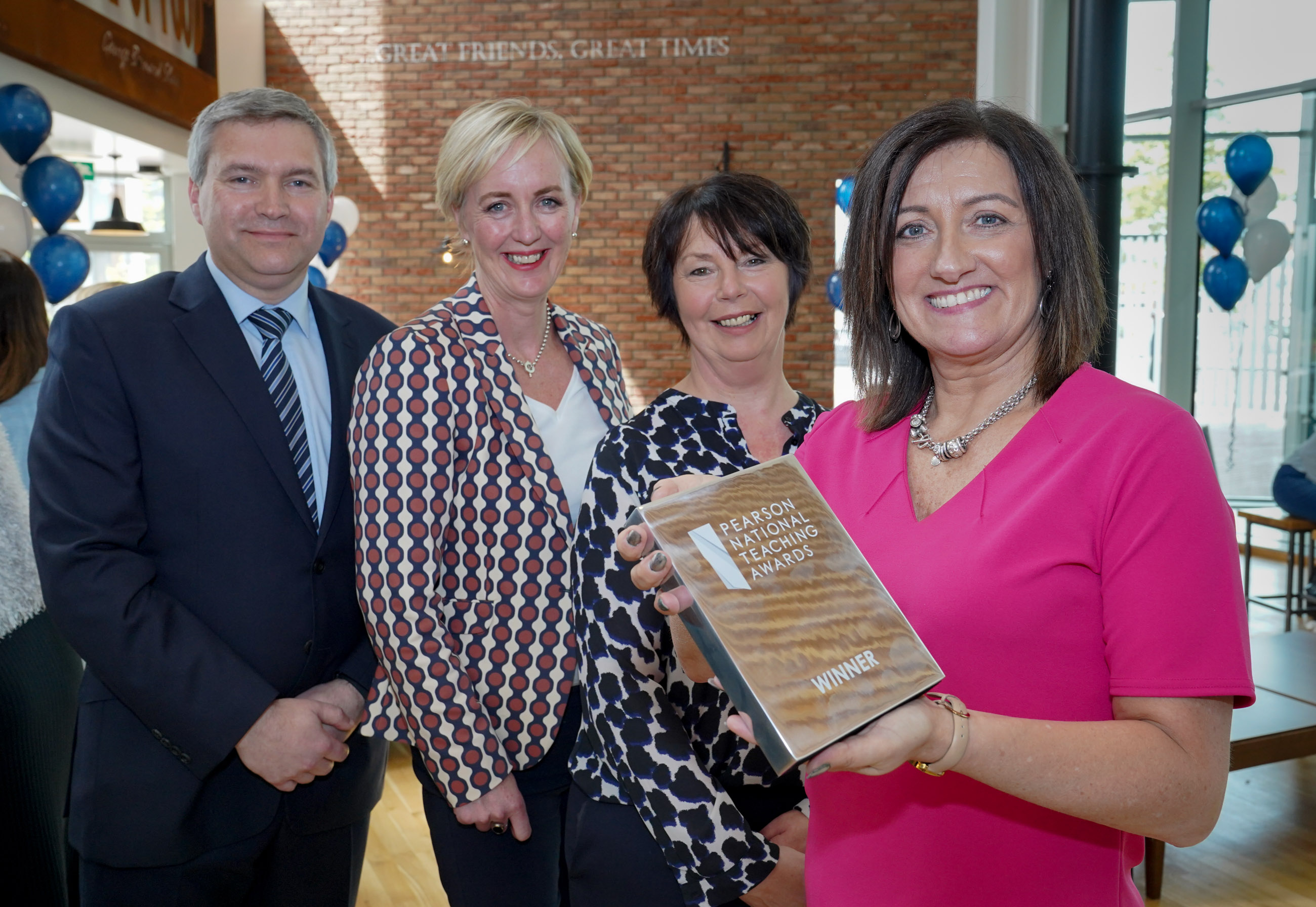 Selected from thousands of nominations, Heather Houston is one of just 68 Silver Award winners across the country who was celebrating on 19 June, which is 'Thank A Teacher Day', as the Pearson National Teaching Awards marks its 21st year of celebrating excellence in education.
Award-winning Heather was presented with a prestigious Pearson Silver Teaching Award trophy in the college's Linen Lounge restaurant to celebrate her outstanding achievement, as will her fellow Silver Award winners across England, Wales and Northern Ireland.
The Pearson National Teaching Awards is an annual celebration of exceptional teachers, founded in 1998 by Lord Puttnam to recognise the life-changing impact an inspirational teacher can have on the lives of the young people they teach – many of whom go on to train as teachers themselves thanks to the significant impact their teachers have had on them.
Heather has also been shortlisted to win one of just 13 Gold Awards at the UK's "Oscars for Teachers". She will join fellow Silver Award winners, along with three Scottish Education Award winners and three winners of the Professional Teaching Awards Cymru, at the 21st UK ceremony of the Pearson Teaching Awards. It is a glittering event held at the Roundhouse on 20 October. It is broadcast on BBC2 the following week, on 27 October, as "Britain's Classroom Heroes" as a showcase of excellence in education.
Heather, a lecturer in Enterprise and Business Services, said: "I feel honoured and privileged to have won this prestigious and highly acclaimed Silver Pearson National Teaching Award for FE Lecturer of the Year. My thanks go to everyone who has supported me in this journey, including my colleagues and managers in Belfast Met. It is incredibly humbling as a teacher to see the impact of my practice on the lives of students and to be part of their journey too. As a Lecturer in Business I aspire to make the student experience in the classroom real and engaging and to support the development of the student in a holistic way. I feel humbled to be able to support students to overcome many of the challenges they face today. The partnerships developed in my business curriculum with Third Sector organisations have supported our young people to engage with their GRIT skills (Growth, Resilience, Independence and Tolerance) and made them able to cope more with these challenges.
"I am passionate about supporting students to play their part in growing our economy and am privileged to be a Lecturer in Belfast Met as it leads the way for young people in Further Education to make that impact."
Christine Brown who heads up the college's Belfast Business School said: "We are all so proud of Heather. This is a much deserved award and illustrative of the teaching standards at Belfast Met."