News
Students recognised for business acumen by Minister at awards ceremony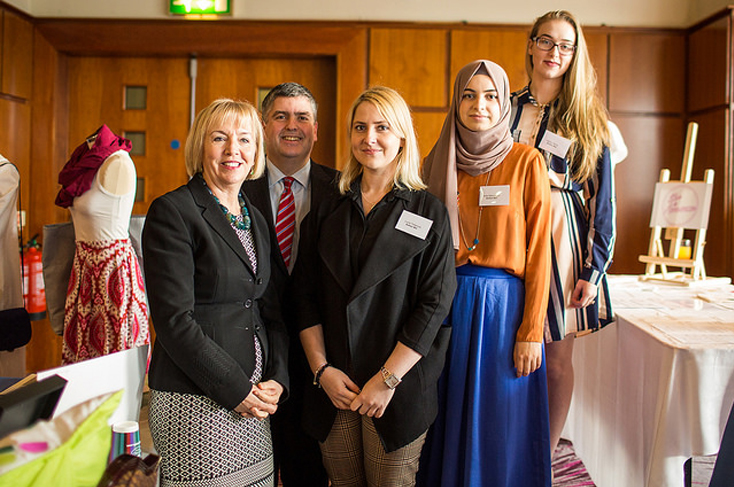 Three Belfast Met students were recognised by a junior Minister for their business acumen at a prestigious awards ceremony at the Stormont Hotel on Thursday.
Adila Marzougui from Moira won the coveted Highly Commended Future Student of Business Award for her unique fashion designs and business branding while Belfast's Hayley Kemp and Lucia Toderova were each awarded finalist certificates and cheques to help them with progressing their clothing and accessories design businesses.
Hayley has reaped rewards from showing initiative – she has managed to convince a famous model and actress to be the face and spokesperson for her brand of personalised headbands and baby grows for babies.
"I got in touch with the writers from Law and Order, one of my favourite television shows. One of the actors from the show is married to model Coco Austin and the couple agreed to help me promote my brand by posting pictures of their baby wearing my designs. I was over the moon to get this backing and have now received orders from America and across the UK! I'm still at college so I am trying to keep up with my studies too but I am delighted the business is seeming to really take off for me!
Junior Minister Alastair Ross MLA yesterday presented the awards to students from across each of the six Further Education Colleges in Northern Ireland. North West Regional College student Daniel Gallagher, who has devised a smart app to turn off electronic appliances when their user falls asleep, walked away with the overall award and £1,350 in prize money.
Minister Ross said: "These awards are an excellent opportunity for further education students to gain recognition for their business skills and their future potential for business success. Entrepreneurship is of vital importance to the economy and it is only right that it is recognised and rewarded.
"I am delighted to see this type of collaboration between the Federation of Small Businesses and our local FE Colleges, both of whom are pivotal to the development of a strong and vibrant economy. Encouraging an entrepreneurial approach to their work, and building students' confidence to pursue self-employment as a viable alternative to seeking a job elsewhere, will be crucial if we are to increase the number of businesses created here in Northern Ireland."
The students' teacher at Belfast Met, Grainne McGowan said she was "extremely proud" of the trio for doing so well and that they each have "great futures ahead of them".
Gerry Campbell, Colleges NI Chief Executive, said: "I was delighted with the standard of applications this year which is testament to the dedication, hard work and professionalism of the lecturers across our six regional FE colleges. The awards are testament to the excellent work in the sector in terms of fostering the spirit of enterprise and giving learners the skills they need to become the successful entrepreneurs of tomorrow.
Federation of Small Businesses, Northern Ireland Regional Chairman, John Friel said: "I was delighted that the standard of entrants this year was once again so high, demonstrating the real quality of entrepreneurial talent being cultivated within our FE Colleges. I would like to congratulate Daniel once again on winning the overall prize, in recognition of the fact that his business idea was not only scalable but also had export potential. I would also like to commend all of the finalists whose exhibitions really impressed us all on the judging panel, with many exciting new business ideas that assure me that the future of Northern Ireland business is secure in the hands of these student entrepreneurs."