News
Homelessness Awareness Panel 2016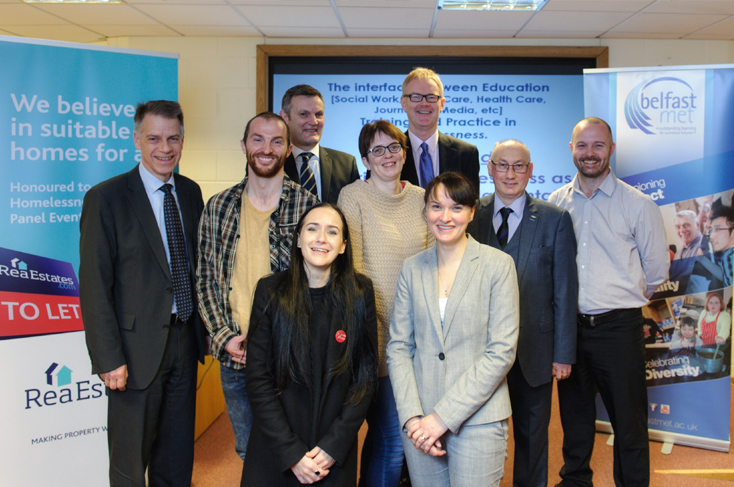 To highlight the 2016 Homelessness Awareness Week, Belfast Met hosted its Annual Homelessness Awareness Panel {HAP} Event, originally conceived and directed by Gerry Skelton (Belfast Met Lecturer). This year's theme was 'Joining the dots: prioritising homelessness as an explicit, fundamental concern for all' and sponsored by Rea Estates
This 2016 event was opened by Gerry Skelton (HAP Director) and Elaine Hartin (Belfast Met Deputy Director) on behalf of the College, and Robert McDowell (Rea Estates CEO). The audience was addressed by a range of panelists representing the professional and service user perspectives in homelessness, covering a variety of issues impacting upon those who are homeless; and the resulting implications for practitioners and service delivery. The tremendous positive feedback during and after the event has been heartening, and the large numbers attending made this was our biggest HAP ever.
Before the HAP event, Robert McDowell (Rea Estates CEO) commented:
"Rea Estates is honoured to be supporting Gerry Skelton's 10th Annual Homelessness Awareness Panel Event, hosted by Belfast Met. Over the last 10 years, Gerry has brought together people and organisations who were prepared to challenge many established perceptions about homelessness and who were determined to raise awareness of the growing problem in our communities.
Over ten years the event has been more than a discussion forum, as each year the audience has heard contributions from real people who had encountered real homelessness. Their gritty, first-hand accounts of how homelessness had arrived on their doorsteps and the shame and indignity that this often brings to them, their families and in their workplace could not fail to touch listener's hearts. But the encouragement and motivation to others came from their stories of the journey back to having a place they could call home and the support they received along the way.
In the 10 years of its running, Gerry's (Skelton's) Homelessness Awareness Panel Event has received support from many third sector organisations. Rea Estates is delighted to be the first private sector business to sponsor the event, particularly as it is in its final year of running.
Rea Estates participation embodied this year's theme of "Joining the Dots". As a large letting agent in Belfast and North Down, Rea Estates provide rented accommodation for the full range of tenants, including families, professionals, couples and singles. Increasingly many ordinary people and their families are having to deal with the shock of homelessness, often due to unexpected events. Unemployment, relationship breakdowns, financial or debt problems, mortgage repossessions can visit unsuspecting families or individuals with little warning. By "joining the dots", Rea Estates has been able to collaborate with government agencies and third sector organisations to provide tangible, support for people in housing need when they are most vulnerable.
Robert McDowell commended Gerry Skelton on his leadership, energy and enthusiasm over ten years of running the (Homelessness Awareness Panel) Event. While there is much work still to be done, the event has brought about change and made connections that have changed the fortunes of many".
Commenting on his final HAP event, Gerry Skelton praised those who had helped him in the planning and preparation Belfast Met, Rea Estates for supporting this 10th anniversary event, and reserved a special word of thanks for his HAP Volunteer Team. He concluded this year's HAP event by thanking the invited guests for their ongoing support and the audience for the time and attention afforded to addressing homelessness. Gerry added:
"It's incredible that what began as my initial attempt to challenge social work and related services to take homelessness seriously, has resulted in my 10th anniversary Homelessness Awareness Panel! This decade of work has seen many personal and professional challenged to ensuring this aspiration was realised; not least the arrival and embedding of austerity, with all its attendant implications. My chosen theme was, I believe, a timely but necessary reminder (and caution) to the wider sector that we all need to cooperate rather than compete in addressing the spectre of homelessness in all its guises. To this end, I want to pay tribute to all those agencies who have supported / sponsored my HAP event in the last 10 years, and this year, Rea Estates. It is incumbent upon all of us to imaginatively address homelessness, including embracing a more willing spirit of meaningful partnership across traditional sectorial divides! Hopefully my work has made a modest contribution to this and related goals, and my heart-felt gratitude to One and All for your encouragement, support and shared vision of resisting modern society's inclination towards promoting a 'Just-Us' world and our humble efforts to resist this and ensure justice is placed at its core". (Gerry Skelton, retiring HAP Director).
Elaine Hartin (Belfast Met's Chief Operating Officer) said: "It was a privilege and an honour to be part of Gerry Skelton's 10th Homeless Awareness Panel, an outstanding event that raises the profile of such an important issue. This year's event surpassed all that went before, not least because of the recognition by Sean Holland (Chief Social Services Officer, DoH) that homelessness is a key issue that must become an integral part of the social work agenda, alongside tackling poverty. This is a key step in "joining the dots", and a fitting legacy from 10 years of the HAP.
Tribute must be paid to all panel members for their compelling insight and passion. Huge thanks are due to Gerry Skelton (also publically applauded by Sean Holland) for his unfailing passion, commitment and enthusiasm in making the event, and all the related 'dot joining' happen. It is obvious that his work has changed lives, and will continue to do so into the future".