News
Celebrating Success with the Future Students of Business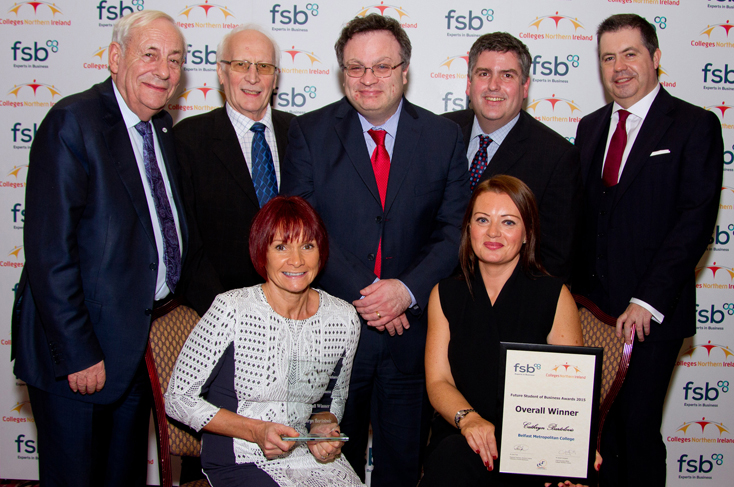 Employment and Learning Minister Dr Stephen Farry MLA presented the Future Student of Business Awards to students from across each of the six Further Education Colleges in Northern Ireland. The awards are testament to the excellent work in the sector in terms of fostering the spirit of enterprise and giving learners the skills they need to become the successful entrepreneurs of tomorrow.
Representing Belfast Met were Fashion Management students Kiara Madden, Cathryn Bartolovic and Sarah Johnston who devised and presented business plans on paper and on film to the Federation of Small Businesses (FSB) and Colleges NI in hopes of becoming the next Future Student of Business.
Cathryn Bartolovic, of Celtic Diva Dance Creations, was overwhelmed to walk away with the overall award as the Future Student of Business and a £1,000 in prize money. The judges described the winning business idea as 'in its infancy and ready to grow', 'great business understanding', 'substantial market research' and 'has identified a real gap in the market locally'.
Cathryn is currently studying a BSc Hons in Fashion Management at Belfast Met. Her business Celtic Dance Diva Dress Designs operates through social media. As part of her application for the Future Student of Business Awards, Cathryn plans to expand her online presence and open business premises. Cathryn specialises in making Irish Dance dresses for both Festival and Feis Dancers. She has conducted extensive market research to test her idea and has returned to education to improve her fashion design skills.
Brenda Duffy Head of Faculty of Technologies & Academic Studies commented - "Belfast Met are very proud of Cathryn's achievement. She has demonstrated tenacity, focus and enthusiasm in order to build her business and the reward from the FSB prize will be a great support to her company's success. We also congratulate our Belfast Met FSB finalists Sarah Johnston and Kiara Madden and we encourage them to pursue their proposed businesses ambitions. The College would also like to commend the FSB finalists across all of the colleges who have demonstrated innovative business plans to an incredibly high standard."
Presenting the prize to the overall winner Minister Farry said - "These awards are an excellent opportunity for further education students to gain recognition for their business skills and their future potential for business success. Entrepreneurship is of vital importance to the economy and it is only right that it is recognised and rewarded".
Gerry Campbell, Colleges NI Chief Executive, said - "I was delighted with the standard of applications this year which is testament to the dedication, hard work and professionalism of the lecturers across our six regional FE colleges."
Federation of Small Businesses, Northern Ireland Regional Chairman, John Friel said: "I would like to congratulate Cathryn once again on winning the overall prize, in recognition of the fact that her business was not only scalable but also had export potential. If the calibre of the entrants is anything to go by the Northern Ireland economy will reap the rewards in the long term."