News
Homelessness Awareness Panel Event 2015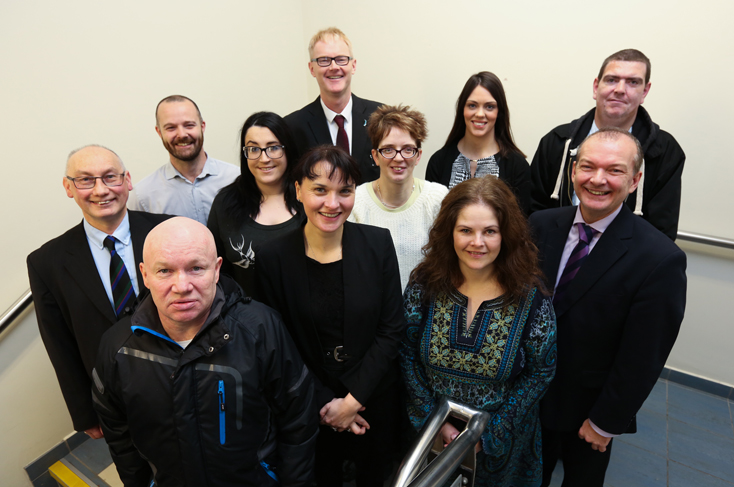 To highlight the 2015 Homelessness Awareness Week, Belfast Met hosted its Annual Homelessness Awareness Panel (HAP) Event. This year's theme was 'Homeless NOT Hopeless and sponsored by Extern.
The event was addressed by a range of panellists representing the professional and service user perspectives in homelessness, covering a variety of issues impacting those who are homeless; and the resulting implications for practitioners and service delivery. The great feedback received and the large turnout has led to this being our biggest HAP event to date.
Reflecting on the HAP event, Charlie Mack, Chief Executive Officer of Extern commented:
"I was delighted to sponsor the 2015 Homelessness Awareness Panel and open the 9 year-old event. I applaud Belfast Metropolitan College and in particular Gerry Skelton (Lecturer and Event Coordinator) on the amazing work they have done and continue to do year after year to heighten the public's awareness about people who are homeless. We need inspiring people like Gerry and our volunteers from Belfast Met to help the 20,000 people who are homeless in NI."
Commenting on the event, Gerry Skelton praised those who had helped him in the planning and preparation (professional, student and service user inputs), Extern for their sponsorship and reserved a special word of thanks for his HAP Volunteer Team. He concluded this year's HAP event by thanking the invited guests for their on-going support and the audience for the time and attention afforded to addressing homelessness.
Gerry added:
"The theme this year is a timely reminder that hope is fundamental to those who are blighted by the spectre of homelessness, and those who work tirelessly trying to address, relieve and eradicate it!"
Elaine Hartin (Belfast Met's Chief Operating Officer) said:
"I am delighted to be involved in Belfast Met's annual Homelessness Awareness Panel as it approaches a decade in existence. The profile this event gives to homelessness, the issues being raised and the opportunity it presents to inform our students of this issue is unparalleled."
The presentations from this event are available here
Pictured above: The 2015 Homelessness Awareness Panel speakers (front, left-to-right): James Menagh (former hostel resident); Elaine Hartin (Belfast Met Deputy Director and Chief Operating Officer); Esther Teggart (APSW, Lakewood secure care service): Dr. John Coulter (Belfast Met Lecturer and Journalist); Claire Hannon (MUST hostel resident); Grace Price (former hostel resident, member of ZEST and service user); Charlie Mack (Extern CEO and HAP Event Sponsor); Declan Morris (Simon Community Homelessness Prevention Coordinator; Gerry Skelton (Belfast Met Lecturer and HAP Event Coordinator); Lindsey Rafferty (Manager, MUST Hostel) and Iain Cameron (Extern harm reduction Coordinator).