News and Events
HND Broadcast Journalism students visit Laganside Courts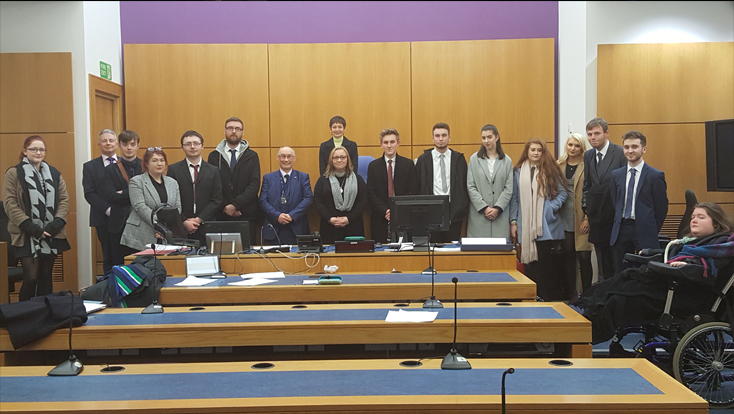 Journalism students from Belfast Met ended up before a senior judge recently, but don't panic – it was all for the right reasons!
The students were all first years studying the two-year, full-time Higher National Diploma in Broadcast Journalism and the visit to the Laganside Courts was part of their law and ethics module.
During the visit, the students enjoyed a short masterclass with Judge Fiona Bagnall, one of Northern Ireland's most senior judges. Judge Bagnall talked to the journalism trainees about her role as a judge and participated in a Question and Answer session.
The students also had the opportunity to sit in on a number of cases taking place in both the magistrates' court and the Crown court on that particular day. They were accompanied to the Laganside courts by tutors Dr John Coulter and Mr Aidan Browne.
Dr Coulter said: "As part of the students' training, we want our journalism students to see courts in action. This visit to Laganside Courts and the specific session with Judge Bagnall is very significant in emphasising the importance of the law in our craft of journalism.
"Indeed, to prepare our journalism students for the world of work or help them progress to other degree programmes from the HND, we have a programme of real-life assignments for the students to complete.
"Already this academic session, we have completed visits to the Orange and Republican museums, the Belfast Christmas Market, Brook Hall Historical Farm, and filmed a 'Let's Talk' programme involving politicians and political journalists in our state of the art TV studios at our E3 campus on Springfield Road."