News and Events
Belfast Met are CompTIA's Rising Stars!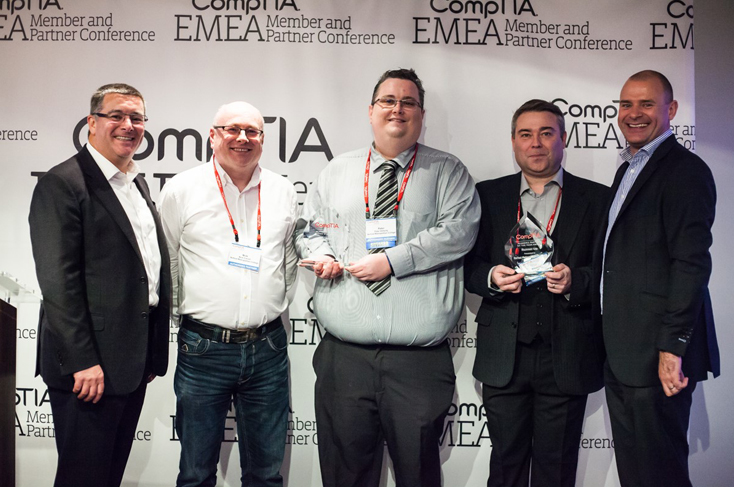 Belfast Metropolitan College have been recognised as CompTIA's Rising Stars and runners up for CompTIA's EMEA Academic Partner of the Year at a glamourous awards ceremony on London's South Bank overlooking the Houses of Parliament & Big Ben.

The ceremony took place at CompTIAs EMEA (Europe, Middle East and Africa) annual conference which took place in London's iconic County Hall. Belfast Met were the only academic partner to win 2 awards this year.

Three members of staff from the School of Creative & Digital Industries travelled over to London to participate in the conference and gain invaluable skills in upcoming cyber security certifications from CompTIA along with the opportunity to network with academic and industry peers.

Belfast Met have a long heritage of utilising vendor certifications from partners such as CompTIA, Microsoft, Adobe, HP, Cisco and EC Council in a variety of part-time, full-time and academy style programmes. Annually around 1200 vendor exams are delivered.

CompTIA certifications have been embedded into Belfast Met's IT Apprenticeship programmes which are run in association with industry partners such as Fujitsu, Capita, PSNI, NICS and numerous other public & private organisations. These organisations regard vendor certifications as a key component of the level 3 and higher level apprenticeships.

The college is currently expanding its apprenticeship provision and in the process of developing a Higher Level Apprenticeship in Cyber Security which vendor certifications from CompTIA, such as Security+ and Cyber Security Analyst, are key components.

Peter Doherty, co-ordinator of Microsoft, CompTIA and Cisco programmes at the college, was also invited to speak at the EMEA conference on the topic of embedding vendor certifications within the curriculum. Unfortunately, due to storm Ophelia causing travel disruption, he wasn't able to make his scheduled time in person but did record his session late the night before and sent it on. The session was well received.

'We are delighted to accept these prestigious awards and excited about the future certifications being developed by CompTIA. We look forward to working closely with them to utilise their certifications in our leading-edge curriculum. Congratulations to the Belfast Met team involved in delivering vendor certifications and the learners on their success.'

Ian McCormick, Head of School of Creative & Digital Industries, Belfast Metropolitan College

'CompTIA is delighted to recognise the passion and innovation the IT curriculum team at Belfast Metropolitan College have demonstrated by embedding CompTIA certification into their programmes to extend learner achievement and enhance employability. These awards reflect the large number of learners the College has benefited by putting the needs of the learner and the employer at the heart of everything they do'

Jane Dickinson, Academy Programme Lead UK & Ireland, CompTIA.