News and Events
Belfast Met student scoops major UK music award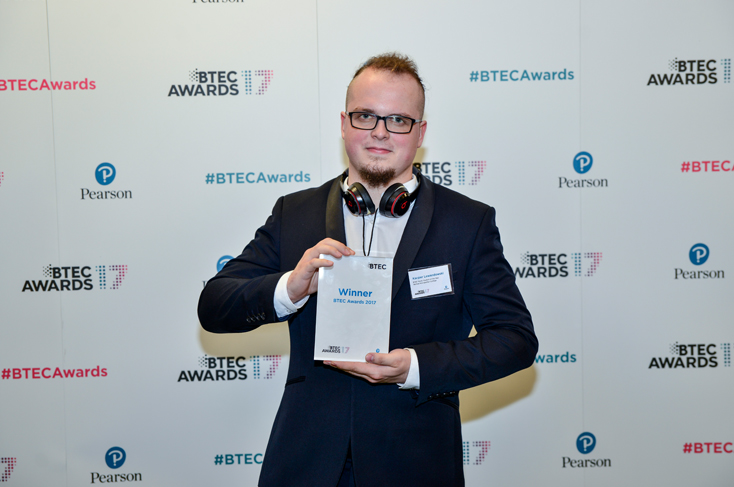 A Belfast Met student has won the BTEC Outstanding Music Student of the Year Award, pipping youngsters from all over the UK to the post to scoop the prestigious accolade.
Kacper Lewandowski was named the winner at the event yesterday at the Royal Horticultural Halls in London, following a lunch reception in Parliament with MPs from across the political spectrum.
The awards recognise the nearly one million students around the UK who are studying BTEC qualifications this year. Pearson, who own BTECs – the most widely taken vocational qualification, received nearly 1,000 nominations across the 19 award categories for this year's Awards.
A total of 22 successful candidates have been singled out for excellence in their area of study or work, after almost 1000 applications were made to this year's judging panel.
Nominating him, Kacper's tutor, Claire Heuston described him as "The most memorable student that has ever passed through our music department at Belfast Metropolitan College. He is friendly, well-mannered and courteous, treating staff and students alike with a level of respect that is rarely seen."
Claire continued: "Kacper excelled right across all areas of the HND in Music, achieving distinction level in virtually every unit on the programme, and completing with an overall Distinction grade. Kacper is originally from Poland, so his success is compounded by the fact that he completed his courses in his second language.
"Kacper is caring, inclusive and very responsive to others' needs. Kacper hated to see students left out of a group situation, and would go out of his way to include people."
Kacper commented: "I feel incredibly honoured to have been chosen as BTEC Music Student of the Year. Thanks to the amazing tutors that supported me throughout the years of my education I was able to achieve something I never dreamed I could. I spent four years at Belfast Met, studying music at both Level 3 and Level 5 and developed so much as a musician and as a person during this time. A career in music is now a realistic pathway for me".
Kacper is no stranger to award success, He recently entered an online worldwide competition, My Music Masterclass, as a guitarist, and came third behind a Canadian and an Indian. He won a substantial amount of equipment for his studio. Kacper's production work has also been endorsed by local songwriter Peter McVeigh by employing him to co-write and produce one of the tracks on his new album."
The winners of the awards were unveiled at the ceremony by the BBC television presenter and journalist, Steph McGovern.
Other awards are presented by education and business leaders, including Peter Jones from BBC TV's Dragon's Den who presented the award to the Business and Enterprise Student of the Year; and Richard Atkins CBE, the government's FE Commissioner, who presented the award to the College of the Year.
Claire added: "Belfast Met is thrilled for Kacper winning this very much deserved accolade, he is destined for great things!"
Rod Bristow, Pearson's President in the UK commented: "The fantastic winners being celebrating at today's award ceremony exemplify the dedicated students across the country who have been helped to make progress in their lives and careers through BTEC and I am delighted to congratulate them on their well-earned success"
BTEC provides a proven pathway, not just to a job, but to a career - whether that be directly, or via university. BTEC combines knowing with doing, practical with academic. It is the most highly regarded career-focused qualification in the world. This helps to explain why almost a quarter of new university entrants now start with at least one BTEC, and why BTEC is growing strongly internationally."