News
Health and Social Care students visit Stormont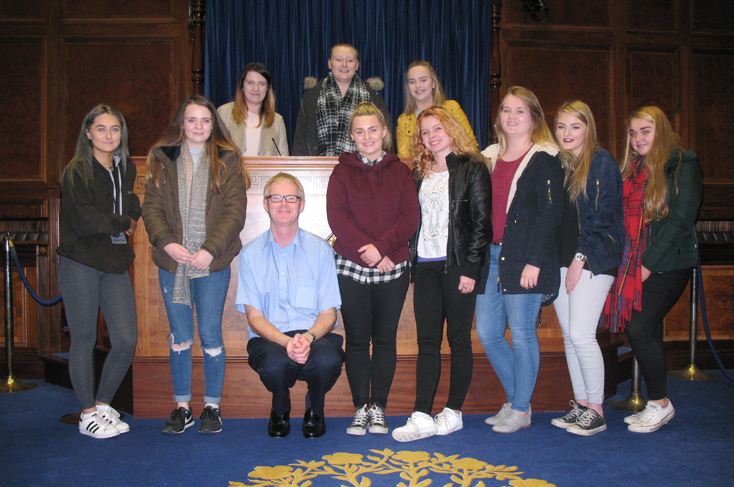 Gerry Skelton (Class lecturer) facilitated a recent field trip to the NI Assembly for the 2nd year Health and Social Care (Extended Diploma) students (pictured above), to help contextualise his social policy teaching.
Commenting on the visit, Gerry Skelton said:
"This proved a valuable teaching and learning experience for the student group; especially given the current political flux; and helped establish the relevance of our primary political institution in NI and relating the social policy priorities to service provision and users / carers' experiences on the ground. I am so proud of the way the class conducted themselves, especially in terms of their considered questions and appreciated the input of NI Assembly staff who made the whole experience so worthwhile".
Reflecting on the visit, 2 students commented:
"On behalf of myself (Deanna Neeson Class Representative), my class and Belfast Metropolitan College I would like to thank the individuals at the NI Assembly for allowing us the opportunity for an educational visit. Special thanks to James Stewart who conducted our lesson in social policy and the history of the NI Assembly. Also to Janice Thompson who gave us an excellent brief on the research and updates to social and health policy as well as legislation.
Also a huge thanks to the MLAs who agreed to represent their constituents and meet with us to answer questions; Mr Trevor Clarke, Mr David Ford, Mr Paul Girvan and Mrs Pam Cameron of South Antrim. This is the most MLAs who have ever showed up for a meeting with a health and social care class for BMC.
Then a massive thank you to our tutor Mr Gerry Skelton for arranging our day out to Stormont, a tour round the NI assembly, getting to witness the debate in the debate chamber and visit the committee room. This educational visit was informative and useful with regards to our education in Health and social Care, we are grateful and appreciative for the chance".