'Coming Out Of Lockdown': How capturing the positives helps to get you through the hard times.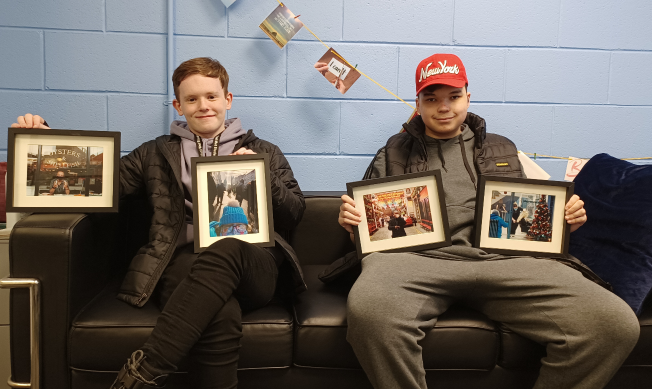 How 'Coming out of Lockdown' was created...
Oisín McCloskey and Bryce Nixon created the 'Coming Out Of Lockdown' project with the aim of capturing the positives of coming to the other side of the pandemic.

Bryce Nixon
So our project was with Leonard Cheshire. We wanted to show everyone how the Pandemic and the lockdown affected people, their lives, businesses, the negative impacts and the positive impacts it had. For example, it was negative because people were let go of their jobs, businesses lost money, however, people spent more time with their family and got closer, which was positive.

We wanted to focus on a project that was relevant to everyone and what was going on in the world. The Pandemic was the most relevant thing as we started it during lockdown.


Focusing on the positives to get through the difficult times

Bryce Nixon
Our photos aren't out in the world yet, but we believe it will remind people how it used to be and how painful it was.


Oisín McCloskey
It will remind people of the good and bad. It's nice that we're getting over it. There's a lot more concerts and the Council have planned more events for the whole city to enjoy. I believe our project has had a positive impact, because although it is showing the sadness in the hard times, it's also showing the process of people getting through it.


Bryce Nixon
Yeah, it's shows that people level up and how they get passed it all. When businesses couldn't serve people in restaurants, they changed to do home delivery.

It helped people who are going through the pandemic who are terrified. The project showed people how disconnected we can be and how connected we are. It also showed how much we rely on being online.


'Belfast Met helps you become the you, you want to be'

Bryce Nixon
Belfast Met is an amazing place. It helps you become the you, you want to be, or just be happy with who you are.

Oisín McCloskey
It's a really inclusive place. No matter what your background is in Belfast or your cultures and beliefs are.

Bryce Nixon
There are people in my class who are transgender and gay, and no one shames them for being who they are. Belfast Met has let them open up and just let them be who they are. We're doing the Pathfinder course which helps you find your part in life, what you enjoy, what you want to do when you're out in the working world.

Oisín McCloskey
In school it would be that you have to get these high levels for college and in Belfast Met, it's find one thing you want to do and do that. You don't have to put a focus on every single topic.

Bryce Nixon
Belfast Met is a lot less stressful, it's more laid back. We've got really nice people to talk to, you've got assistants who will help you with everything if you're unsure.