Laura Nixon: Working within Texthelp's Marketing Department.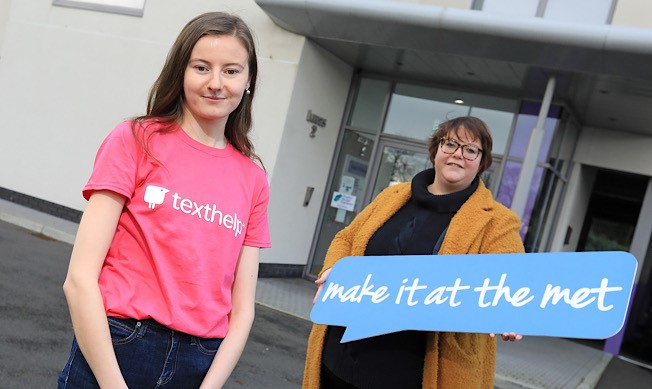 Business Admin Apprentice: Working within Texthelp's Marketing department.
Laura started her apprenticeship journey last year when she spied an advert for an apprenticeship role advertised by IT company Texthelp. After successfully completing a master's degree she found herself in the position many find themselves in when applying for jobs, as she didn't have the industry experience required. Hear from Laura how her apprenticeship journey with Texthelp has changed that.
"I had never really considered an apprenticeship before. Mainly because that I had a limited understanding of what industries apprenticeship served and who they're open to as well. I was under the impression that apprenticeships were an alternative to university for school leavers and for people that are interested in practical trades. What I've learned is that apprenticeships are all those things and a whole lot more.
"When I saw the apprenticeship advertised by Texthelp on Linked In I thought that this was tailor-made for me. I applied and was successful after an interview, starting my apprenticeship in September 2020. I have already gained over six months of industry experience, and each week I am building upon my skills and experience, gaining more confidence in my ability to carry out the tasks set to me by both my employer and my tutor.
"I feel the support I get from both my tutor and workplace mentor just makes the process of moving from education to employment all the easier, as I feel supported in my learning both on and off the job. The work I am involved in is varied and I am getting a good range of experience including working on projects such as developing and co-ordinating the content for NIAW 2021. I would recommend the apprenticeship route to anyone who is looking build their experience, start their career and gain qualifications relevant to their chosen career path."
Ruth Scott, Content Marketing Specialist at Texthelp said, "Laura brings a fresh approach and a positive attitude to our team and to Texthelp as a whole. She's always willing to learn and has brought many new innovative ideas to our marketing campaigns. Having an apprentice in our team also helps to develop others, giving them the opportunity to mentor and nurture someone who maybe is less experienced than them. The development of these interpersonal skills has a knock-on impact for the way they support other members of staff, and so will have an even wider impact on our business."
To hear more from Laura and the team at Texthelp, listen to the Texthelp Apprenticeships podcast available during Northern Ireland Apprenticeship Week here