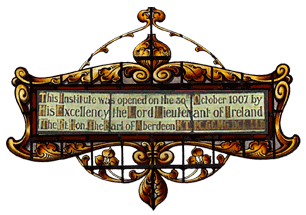 In the 19th Century Belfast prospered from the Industrial Revolution to such an extent that it became the largest, and most prosperous, city in Ireland. The source of this great wealth lay in the key industries of Shipbuilding, Textiles and other related areas including engineering and general manufacturing. Unfortunately, the workforce necessary to ensure these industries would thrive and expand was poorly trained; often in inadequate premises or 'on the job'. More alarming was the lack of education in technology. Without this specialised training Belfast's industries would find it difficult to compete with keen competition from Britain, America and Germany.

Happily a solution was at hand. In the late 1890s The British Government of the day ensured adequate funding for the establishment of a Technical Institute along the lines of those in Great Britain. Belfast City Council also lent a hand, and extra funding, to ensure that the Belfast Municipal Technical Institute would be the finest in Europe. Opening for business in 1906 the Institute, situated in College Square East, rapidly expanded to incorporate an Art School, Technical Laboratories and many other 'state of the art' training facilities.

The Central Hall featuring magnificent stained glass windows illustrating the work of the college, acted as a venue for these events. For many young people it was also the place to be on a Saturday night when this majestic room was transformed into a dance hall. As a college the Tech was innovative from the very beginning. A Day School was established to instruct young students in technology, women were educated and trained from the very first academic sessions and in the 1950s Day Release Students became a feature of college life. Throughout its long history the Tech was the main provider of night classes in Belfast.