News and Events
Numbers add up for Belfast Met student with top accountancy award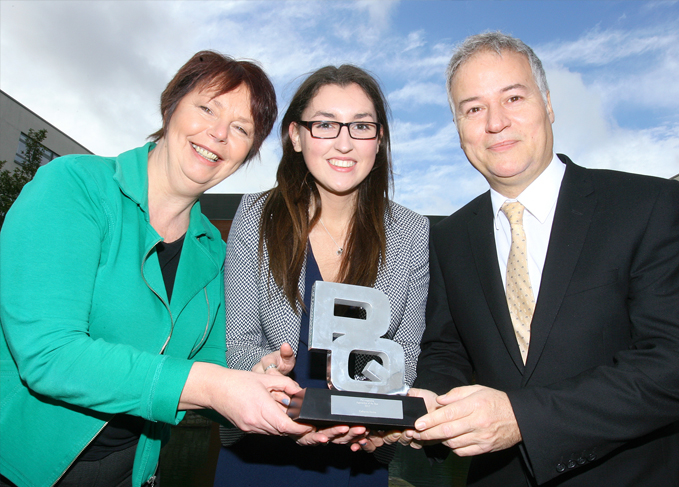 Belfast Met student Catherine Devine has scooped 'Accountancy Apprentice of the Year 2017' at the prestigious PQ Magazine Awards.
Catherine from BDO Northern Ireland saw off fierce competition from accountancy apprentices across the UK with her outstanding results in Belfast Met's Higher Level Apprenticeship in Accountancy, achieving an overall Distinction and the highest marks in her peer group.
Speaking about Catherine's award, Iris Brown, Curriculum Manager at Belfast Met said: "Catherine joined our Higher Level Apprenticeship in Accountancy straight from school in September 2014 and immediately showed her talent by attaining outstanding results in Level 5 ATI Diploma over the 2 year period of the apprenticeship programme. This award is in recognition of her diligent attitude and dedication to the programme.
"Her work in class was consistently of a very high standard and she demonstrated a real willingness to learn. She coped particularly well with the demands of juggling part-time study and full-time work and will no doubt prove to be an asset for BDO Northern Ireland."
Launched by the College in 2014 with the support of 12 Belfast based accountancy firms, the Higher Level Apprenticeship in Accountancy aims to develop students' professional and technical skills, as well as help them to gain a recognised higher qualification while in paid employment.
Nigel Harra, Senior Partner at BDO Northern Ireland said: "This is a well-deserved honour for Catherine. She has been an asset to our operation and her academic ability is matched with a willingness to apply herself in the workplace. Catherine quickly adapted when she joined us in 2014 and her positive contribution to our work helped give us the confidence to extend the Higher Level Apprentice scheme in recent months.
"Our partnership with Belfast Metropolitan College helps us to attract smart, enthusiastic and engaged people into our business who might otherwise have thought that a career in accountancy was not for them. We have a proud record of developing young talent from all backgrounds and our diversity remains a strength that clients value."
Catherine Devine said:
"I'd just like to say a huge thank you to all who nominated me for this award and supported me throughout my journey as an apprentice. I was welcomed into both Belfast Met and BDO NI in 2014 and from then, there has always been a mass of encouragement from both my lecturers within the Met and my mentors in BDO. I am so thankful for each opportunity that has been given to me throughout the past few years and I know that the support will continue throughout my training as a Chartered Accountant."
For more information on our Apprenticeships visit - www.belfastmet.ac.uk/apprenticeships