News and Events
Study Cookery at Belfast Met!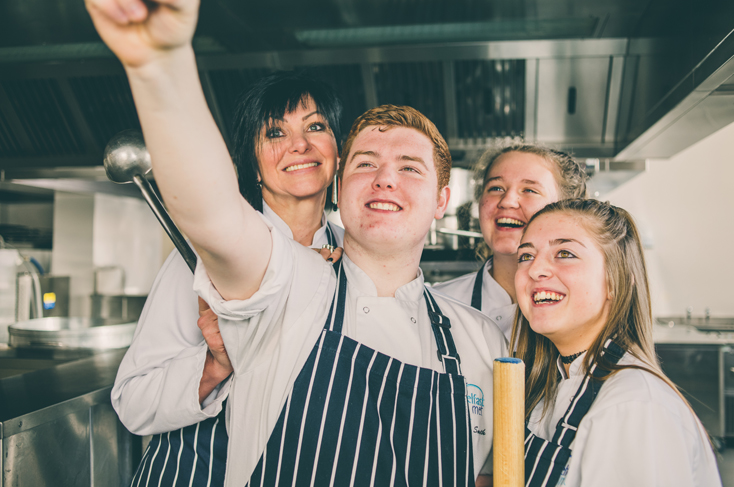 Do you want to pursue a career as a professional chef? Belfast Met cookery courses includes theory classes as well as practical work in the college's state of the art kitchen so that you can apply the skills that you will learn in a real restaurant setting.
We interviewed students that are currently studying Professional Cookery about their experiences studying at Belfast Met:
Ashleigh Cowan (18) from Dundonald is studying Level Two Professional Cookery at Belfast Met and was on-hand to help the college launch its recruitment season. She said: "My dream is to become a baker so this course is a good all round course that will prepare me for the baking course I hope to enrol on next year. I have gained great industry experience and made a lot of friends on the course. The tutors who all have industry experience are amazing and I've really learnt so much. I'd recommend the course and Belfast Met to anyone hoping to make it in the hospitality industry."
Isobel Harris (16) from Belfast is following in her chef father's footsteps and helping herself get a job in the industry by studying Level Two Professional Cookery at Belfast Met. She said: "I have always been interested in cooking and my dad is a chef so it's in the family. I love the creative side of it…plating up and presenting food so it looks appetising. I hope to travel after my course and find out as much as I can about food around the world, working in different kitchen and then eventually open my own restaurant. I'd recommend this course to anyone as it provides an excellent introduction to the industry."
Dillon Smyth (18) from Comber is studying Level Two Professional Cookery said: "It's a really great course and the tutors all have industry experience so that adds to the level of insight we are given into this career path. The new Linen Lounge restaurant that has opened on campus has given me the opportunity to learn what it is like to work in a busy kitchen which will be invaluable experience when it comes to getting a job in the industry. I'd recommend the course to anyone, come give it a go!"
For more information on Cookery courses at Belfast Met click here - Link
Anyone who is interested in finding out more about any course at Belfast Met can come along the Part Time Open Day on January 10 at Millfield Campus or the Information Day on January 28th and Full Time Open Day on February 2 at Titanic Quarter Campus.